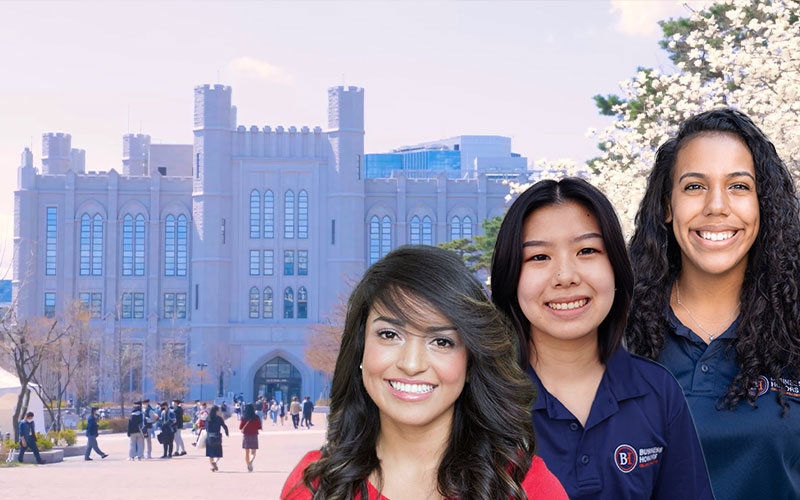 The Benjamin A. Gilman International Scholarship is a program that aims to help students in the U.S. fulfill their goal of studying abroad.
In October 2022, 19 students at Cal State Fullerton applied for the Gilman scholarship, and the results are in: 14 out of the 19 students were awarded! With funding from the scholarship, these students will be studying in their dream countries, including Australia, Singapore, Malaysia, Vietnam, France, England, Germany, Spain, Portugal and Israel.
"This scholarship changes lives and makes global programming financially attainable for so many of our students," said Aileen Vickory, the Outbound Advisor for CSUF Study Abroad and Global Engagement (SAGE) who guided each student through the scholarship application process.
Vickory also provided 8 facts about studying abroad on CSU and CSUF programs and financial resources like the Benjamin A. Gilman International Scholarship:
CSUF students study abroad every semester in countries like South Korea, Ghana, Mexico, Italy, France, Germany, the UK, Japan, Taiwan, etc., and pay the same CSUF tuition as their peers who do not study abroad.
Students can use their federal (e.g. Pell grant, SEOG, etc.) and state (State University Grant, Cal Grant A/B, Middle Class Scholarship, etc.) financial aid towards their programs. Summer financial aid is also available for eligible students and can be applied to summer programs.
If students are receiving CSU, CSUF, department, and/or ASI scholarships (e.g. President Scholars, Guardian Scholars, etc.), they can apply those funds toward their semester and yearlong programs.
Since students who participate on CSU and CSUF study abroad programs pay CSU tuition, if they are also receiving fee waivers (e.g. Cal Vet, Alan Pattee, Current or Former Foster Youth, CSU Employee, CSU Dependent, etc.), they can waive the same tuition on their semester and yearlong programs.
There are several scholarships like the Benjamin A. Gilman International Scholarship that CSUF students apply for and earn. The national average for Gilman recipients is 1 in 4 applicants (25%) will receive a Gilman scholarship. For the past two application cycles, 3 in 4 applicants from CSUF (75%) received a Gilman scholarship with an average award amount of $3,785! The next Gilman application deadline for Summer 2023, Fall 2023, Academic Year 2023-2024, and Spring 2024 programs is March 9, 2023 at 11:59 (Pacific).
In Summer 2022, one CSUF student studying abroad on a faculty-led summer program paid essentially nothing to participate in their study abroad program thanks to receiving a summer grant that covered the tuition and the Gilman scholarship that covered the remaining costs of the program.
CSUF students continue to save money even while abroad. Living, commuting, and going to school in Southern California is expensive. Here are what CSUF students recently had to say:
a. A student who studied in South Korea for Fall 2021 said that she paid $1,500 for her dorm in Seoul for the entire semester.
b. A student studying in the U.K. said that her mother told her they were saving about $300 a month by not having to give her gas money because she took public transportation in the U.K.
c. A student who studied in Spain booked a flight to travel to Hungary (taxes and all) for about 9 Euros (less than $10 USD).
Additionally, and what is more important, is the return on investment students are getting when they study abroad. A common misconception is that studying abroad is "just a vacation/travel", "just a party" or "not serious." However, many CSUF students commute from home, and when they study abroad, they are leaving home for the first time. They have to pay bills, cook for themselves, navigate unfamiliar situations daily, travel, learn languages, set goals, budget, problem-solve, interact with people from all over the world, and more. CSUF students who study abroad or participate in one of our other global engagement programs are learning to thrive in a global environment.
To start your own study abroad journey or learn more about financial resources, visit https://extension.fullerton.edu/studyabroad/.
Study Abroad is a fully integrated part of CSUF Extension & International Programs (EIP). Learn more about CSUF EIP at https://extension.fullerton.edu/.