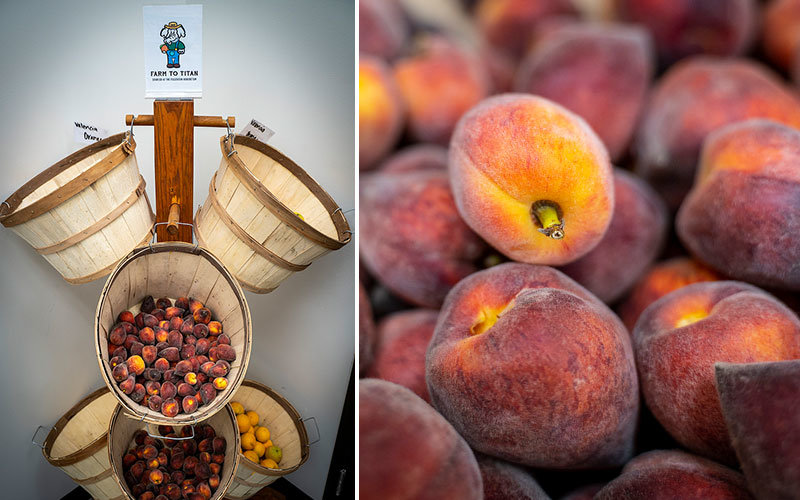 Fullerton Arboretum, a 26-acre botanical garden located at Cal State Fullerton, is making a difference in the campus and environment…and it all starts with fruit.
The Arboretum grows an incredible variety of fruits in its gardens, and on a weekly basis, the staff donates some of their harvests to CSUF's Associated Students Inc. (ASI) Food Pantry. This includes apples, avocados, citrus, nectarines, peaches, pears, persimmons and pomegranates. In 2022, a total of 1,380 pounds of produce were donated to the Pantry.
"This is an important example of on-campus collaboration," says Greg Pongetti, the Living Collections Curator at Fullerton Arboretum. "We are partnering with the Pantry to combat food insecurity among our student population. The produce we donate is extremely fresh since they pick it up the same day it is harvested. So we are providing students with fresh, nutritious and delicious fruit."
The partnership between the Arboretum and ASI Food Pantry is not just helping to fight food insecurity, but it's also helping the environment. When the Pantry has produce that doesn't get used, Fullerton Arboretum will take those and recycle them back into the earth as compost. "This is typically produce that they receive from grocery stores that is close to the end of its shelf life," says Pongetti. "Last year, we received 4,289 pounds of old fruit from the pantry for our compost pile." That's over 2 tons of fruit that otherwise would have been thrown in a landfill.
The compost of unused fruit is then used to amend soil in the Arboretum. Pongetti remarks, "Some of the compost is actually used around our fruit trees that provide fruit that we donate to the pantry. It is a complete cycle."
Fullerton Arboretum looks forward to continuing its collaboration with the ASI Food Pantry in 2023 and helping to feed students in need while promoting sustainability.
To learn more about Fullerton Arboretum, visit https://fullertonarboretum.org/
If you know a student experiencing food insecurity, please have them visit https://asi.fullerton.edu/services#FoodPantry.