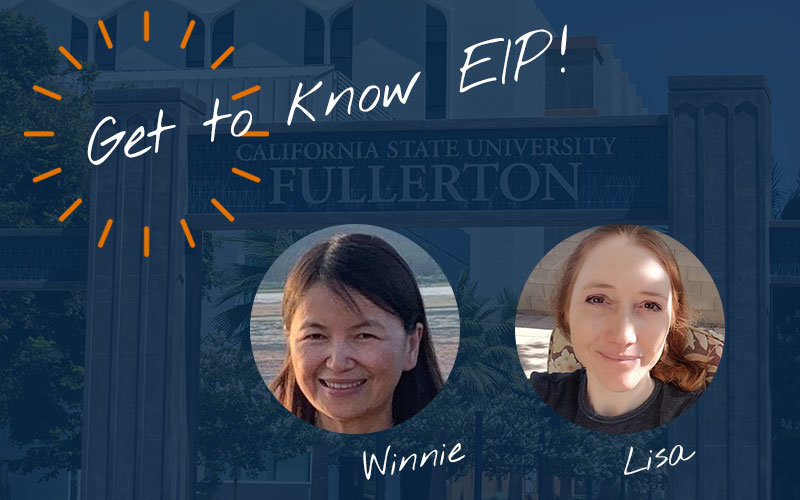 Cal State Fullerton Extension and International Programs, or CSUF EIP, is a team that is dedicated to meeting the professional and educational needs of CSUF, the surrounding Southern California community, and the global workforce. They offer numerous resources for every stage of life, including online degree completion, professional development certificates, flexible master's programs, active senior programs, international programs, a fully accredited arboretum, and more.
This month, we interviewed two of the team members from the Extension programs department, Winnie and Lisa!
Meet Winnie Kang-Abreu!
Where are you from?

I was born and raised in China. I came to the U.S. to pursue my graduate studies as an international student years ago. Upon my graduation, I was hired by an import-export company. Then, my passion for education led me to a great opportunity at EIP.  

What's your position title? Pro

gram lead

Tell us a little more about what you do for EIP.

I collaborate with our internal units in EIP, faculty, instructors, and other CSU campuses to develop and manage professional development certificate programs. I also work with regional and international partners in the public and private sectors, such as Target, Northgate Market, OCTA, and OC cities, to establish and foster partnerships and offer customized training programs to meet their workforce development needs. It's so rewarding to know and see that our work has a positive and meaningful impact on our students' learning experience.

What is your favorite movie?

I like drama, comedy, and musicals. The

Sound of Music, The Magic of Ordinary Days

and

Love Actually

are a few of my favorites.
Meet Lisa Krause!
Where are you from?

I've lived in Fullerton most of my life but recently moved to Placentia. I have also briefly lived in Burbank, Rowland Heights and even London, England many years ago.

What's your position title? I

nstructional designer

Tell us a little more about what you do for EIP.

I support the online course design and setup in the Canvas LMS for our Professional Development courses and other EIP programs. I also help instructors with new content design and help to resolve LMS technical issues.

What is your favorite movie?

This has always been such a tough question for me because I can't ever decide on just one. I love so many movies, especially classic films. Here are a couple of my "favs": #1.

The Great Escape

(1963) #2.

Roman Holida

y (1953).
Stay tuned for next month's edition of "Get to Know EIP," which will feature two more team members from another department!
To learn more about the various programs offered through CSUF EIP, please visit https://extension.fullerton.edu/. We're here to help you reach your learning and development goals.