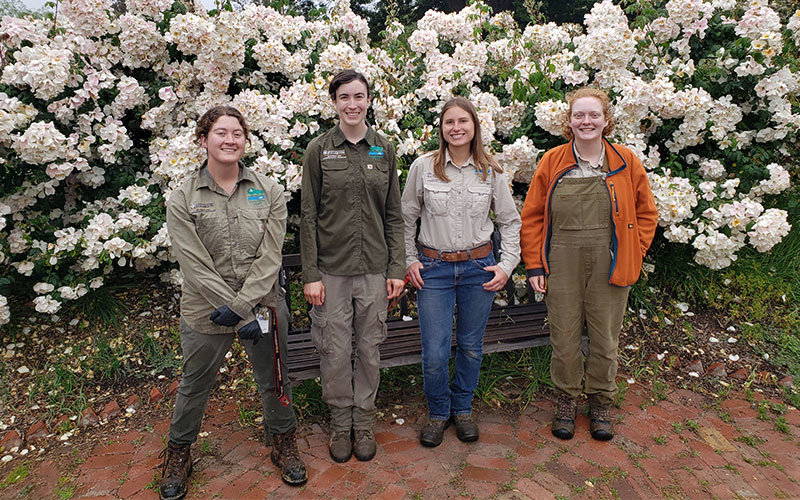 Fullerton Arboretum, located on the Cal State Fullerton campus, is home to a world-class variety of living and historical plant collections. It is just one of three arboreta in the state of California and one of 28 arboreta in the world to achieve ArbNet's Level IV accreditation.
However, the flourishing success and breathtaking beauty of this 26-acre botanical garden wouldn't be possible without the hard work of its four horticulturists. With 26 acres to maintain, they are each responsible for around 6 acres of land!
We interviewed these four dedicated women to learn who they are, what they do and even some fun facts about them.
Meet Marjorie Rhodes! She grew up in Los Alamitos. Marjorie manages the Chaparral Hill, Heritage House, Rose Garden, Tropical Hill and Subtropical South sections at Fullerton Arboretum.
She shared, "My favorite part of working at Fullerton Arboretum is getting to learn and utilize lots of skills in the horticultural and environmental fields, but I also love getting to work alongside our great staff and many volunteers who make up the arboretum community."
Fun fact: Marjorie played the flute and piccolo in high school.
Meet Amy Bulone! Amy grew up in Riverside and attended UC Riverside for her B.S. in plant biology.
The sections of Fullerton Arboretum that she manages include the Pavilion, Dry Border, Perennial Bed, Citrus, Avocados, the Deserts (General Desert, Baja California, South Africa, Madagascar, Mojave, Succulent Garden and Sonoran) and some of the Thorn Forest.
When asked what her favorite part about working at Fullerton Arboretum is, she said, "Every day is different."
Fun fact about Amy? She played the clarinet from fifth grade through the end of college, including marching band in high school.
Meet Anna Baier! She's from La Mirada. At the arboretum, Anna manages the Channel Islands, Canary Islands, Chile, Stone and Pome Fruit Orchard, Children's Garden, Ombu, Deciduous Woodlands, Mediterranean Rockery, and Antiquities collections.
Her favorite part about working at Fullerton Arboretum is the people. "I work with such amazing individuals and am so grateful for the knowledge they share," Anna said. "Their enthusiasm about plants, and nature in general, is contagious. The visitors we get at the arboretum are a joy as well. The people I interact with always ask such fascinating questions and have a genuine interest in what the arboretum is doing/growing."
Fun fact: Anna participated in world percussion in eighth grade playing the tubano and cowbell. She was also on the tennis team in high school.
Meet Mars Jordan! Mars was born and raised in Orange County. At Fullerton Arboretum, she manages the front entrance, conifers, native wildflower meadow, palm grove and rare fruit grove.
Her favorite part of being a horticulturist is that there is always something new to learn.
"Since I started working here," Mars said, "I've learned how to operate different types of machinery and how to manage and prune different shrubs and trees."
Fun fact about Mars: She played the trumpet in her high school band.
To learn more about Fullerton Arboretum, visit https://fullertonarboretum.org/.
Fullerton Arboretum is a fully integrated part of CSUF Extension and International Programs (EIP). Learn more about EIP at https://extension.fullerton.edu/.