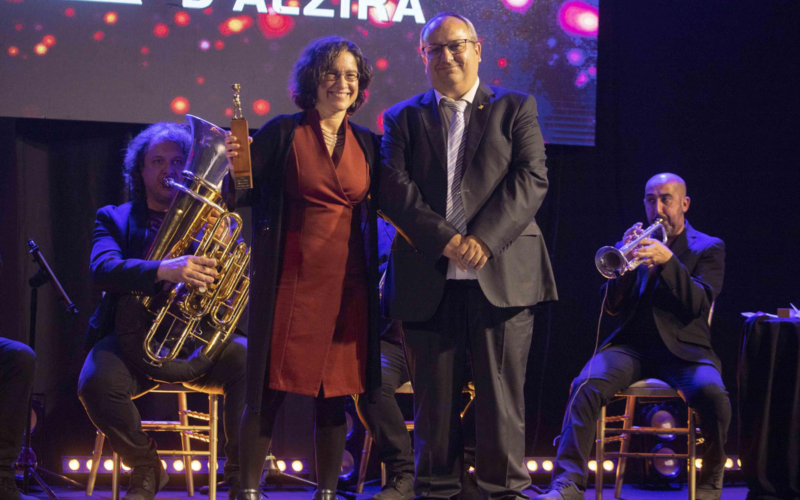 Aitana Guia, associate professor of history, was awarded the Mancomunitat de la Riberta Alta Book Award on November 11 in Alzira, Spain for her book, A Pedestrian Rebellion: How the Turia River Park Transformed Valencia. The ceremony was attended by hundreds of people and political authorities.
La rebel.lió dels vianants: El Jardí del Riu Túria al centre d'una nova València, as the original title in Catalan reads, is a book about what makes a city human-centered, healthy, and happy. As a case study, it analyzes the past, present, and future relationship of the Turia River and the city of Valencia.
A Pedestrian Rebellion explains that Valencia, located in a fluvial island, was shaped by the Turia River from its very origins. It traces how the city and the river have had a difficult coexistence, as the Turia River, like the LA River, is a moody prone-to-flooding river that needed to be domesticated. Once the Turia was imprisoned in new and safe cement riverbed, the old riverbed that crosses the city east-west surrounding the old fluvial island (today's historical downtown), was set to become a freeway. Environmental and city activists fought for an urban park instead. And once Spanish dictator Francisco Franco died in 1975, they got one.
Today, the Turia River Park is one of the most impressive urban parks in the world. It's a serpent of 10 kilometers that welcomes children, seniors, runners, dancers, martial artists, cyclists, and, of course, pedestrians. Thousands of daily users have turned this poorly-designed and improvised park into a magical space where users are encouraged to enjoy and join in the ongoing human theater free from advertisement, commercial activities, and digital distractions.
The Turia River Park also needs to be finished. The Turia River Park does not end in the Mediterranean Sea because the massive Valencia Port gets in its way. A Pedestrian Rebellion also engages in the political debates over what kind of city should Valencia be in the next decades. One that promotes green spaces and human-powered transportation or one that favors cars and freeways?
Dr. Guia spent her sabbatical leave in Valencia, running, cycling, interviewing people and observing birds and trees in the Turia River park. She received support from the College of Humanities and Social Sciences, Division of Academic Affairs, and the sponsor of the award, La Mancomunitat de la Ribera Alta in Spain. Bromera Edicions, a Valencian publishing house, will publish her manuscript in spring 2023. Dr. Guia is already working to secure Spanish and English translations for her work.