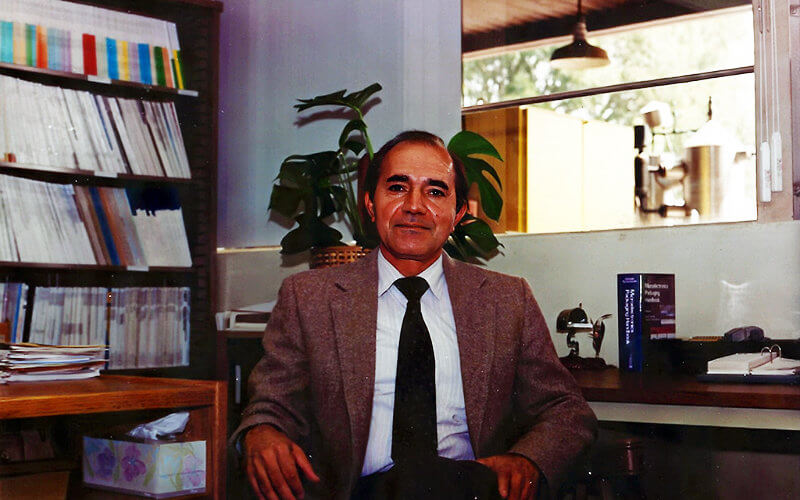 Andy Bazar, former dean of the College of Engineering and Computer Science (ECS), died on January 12, 2023, of complications from colon and bladder cancers at age 83. With his passing, the world lost a brilliant mind, an educator to thousands of students who moonlighted as an avocado farmer, a devotee to Persian culture and history – and most especially a steadfast and loving husband and father. Andy is survived by his wife Nora, and children Thomas (Tommy) and Emily.
Born in Iran from humble beginnings, Bazar's keen intelligence won him a coveted opportunity to attend the Abadan Institute of Technology, (later renamed the Petroleum University of Technology), one of the top universities in Iran, which also ranks seventh in the world among oil and gas sector and petroleum engineering universities. He later received a master's degree from USC and a Ph.D. from North Carolina State University in industrial engineering.
Bazar's academic experience before coming to CSUF included faculty positions at Wichita State University, Fresno State, and Cal Poly Pomona. At Cal Poly Pomona, he also served as chairman of the Industrial and Manufacturing Engineering Department. His administrative and academic experience led to travels in Germany, Vietnam, and elsewhere, where he exchanged information and gave presentations on engineering education in the U.S.
After stepping down as dean at Fullerton in 1996, Andy dedicated his efforts to full-time teaching in the mechanical engineering department until his retirement. During this period, he taught more than 18 different subjects, two of which he developed and taught for the first time. Despite health challenges, Andy continued his teaching and research activities. During the Covid pandemic, he dove into the details and nuances of Zoom so he could try to help his students get the most out of online learning. Bazar celebrated his retirement with his colleagues at the mechanical engineering department and the College of Engineering and Computer Science in May 2022.
"He invested his time and energy to ensure students learned more than what they read. His goal was to teach students industry standards and real-life scenarios," said Charlotte Sanchez, a former administrative support coordinator in the mechanical engineering department. "I will miss his smile, his infectious laughter, his compassionate eyes and sincere kindness. He was a gentle soul who touched the lives of so many beyond the classroom."
Bazar was the author of dozens of publications and technical reports, and provided his expertise to industry and government leaders at Rockwell International, the Indiana Commission for Higher Education, the U.S. Flight Test Center at Edwards Air Force Base, Xerox, and many other organizations.
But according to Bazar's daughter, Emily, he was really an artist at heart who loved literature and film. He bought and read thousands of books, which lined the walls and halls of his home.
"Two days before he died, he sent me to the local library bookstore, where I beamed him in via Facetime so he could scan the shelves and pick titles. I returned with more than a dozen books and three magazines," she said. "He was reading – first covering his books with brown paper bags – and underlining interesting passages with his pencil, up to the day before he died."
Bazar also had an incorrigible sweet tooth. He poured honey on everything, whether it needed or not. He loved growing and drying fruits and combining them with nuts into a natural trail mix, which he proudly handed out over the holidays. Later in life, he became a burgeoning chef, studying Persian cuisine, ordering saffron from Amazon, and watching YouTube tutorials before he tried his hand at complicated Persian dishes.
At work, he surprised his colleagues by bringing healthy bowls of salad for retirement parties or anonymously leaving bags of avocados, oranges, and tangerines, freshly picked from his farm, in their mailboxes.
Bazar's colleagues remember him with love and respect. "He was an extremely dedicated and effective dean who tirelessly worked for several years to improve the College of ECS at CSUF. He liked and respected all ECS's faculty, staff, and students, and he had always pleasant interactions with them," said Karim Hamidian, professor of electrical engineering. "He was truly a gentleman and kind, and a very good friend of ECS's family. This is indeed a big loss to the college."
Nathin Mabale, a former administrative support coordinator in the mechanical engineering department recalled that Bazar "was always so kind when coming to the office and would just come by to see how I was doing. Working with him and seeing him smile every time he visited was a pleasure."
Hossein Moini, professor emeritus of mechanical engineering, remembered Bazar as "a humble and kind individual who had a remarkable career with a full range of accomplishments."
Pradeep Nair, professor of computer engineering, identified Bazar's passing as "indeed a big loss for our college." He added that "I had the pleasure of working with him on multiple occasions. He was always kind and very pleasant during my interactions with him."
In lieu of flowers, the Bazar family asks Andy's friends to please consider donating in his memory to the Patient Access Network Foundation, which helps people who have cancer and other illnesses pay for their medical costs, or to the Farhang Foundation, a Los Angeles-based nonprofit that promotes Persian art and culture.