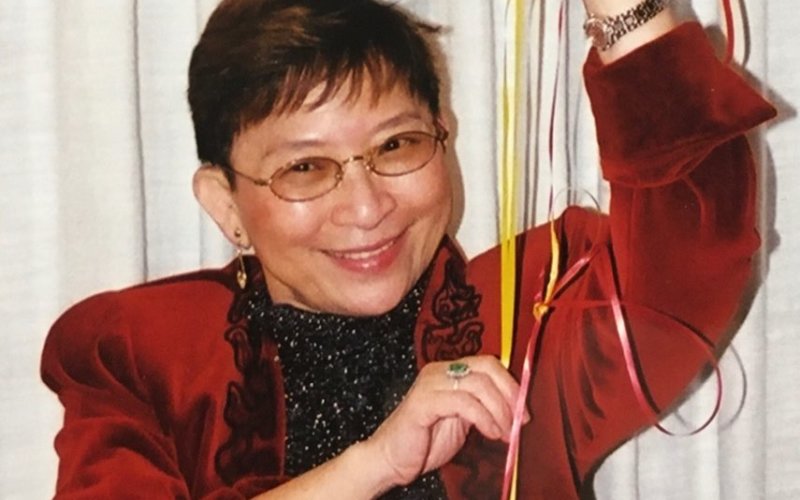 Veronica T. Chiang, a much beloved librarian and exhibits director for 45 years at the
Pollak Library, passed away on June 1, 2023, following a brain aneurysm.
She was born Teng Fu Wai in a village in the Pearl River Delta near Canton (Guangzhou), China in 1935. Her father worked closely with Sun Yat-Sen to overthrow the last emperor of China in 1911, ending two millennia of imperial rule. Veronica was the seventh child from three mothers and grew up in war. Her own mother, Do Tze Hua, much younger than her father, also led a "moviesque" life. The day Veronica was born she was a grandaunt, with siblings older than her mother. During World War II, Veronica lived in a house hidden near a cemetery in Guilin, China. It was without electricity and poorly heated. As a child she had her teeth drilled without Novocaine because there was none and declined it for everything later, except root canals. Fleeing from one city to another ahead of Japanese bombing, she was carried with her sister in baskets slung from a pole. Even as a young child she refused to accept a porter unless he agreed to follow her commands and stop whenever she saw a frog or flower she liked. Her porters were lucky she didn't have a camera then. She was a very good photographer, especially of flowers.
After World War II and with the civil war ongoing, she was boarded in a girls' junior high school on an island in the delta. Later she roomed with a family in Hong Kong for high school. With the establishment of the new China, she joined her family in Taiwan where her father was a senator. She attended college, danced with the president's son and translated for the American military. In 1958, she traveled by cargo ship to San Francisco. She enrolled at the University of Oregon. Later she came to California where her future husband, George Chiang, was attending USC. She received an MLIS degree from USC and much later, a second liberal arts master's degree. Both she and George came to work at California State University Fullerton, in the Library and Engineering School, respectively. They had three daughters.
After their separation, she met artist Scott FitzGerald and enjoyed a 52-year partnership and marriage. He helped make her vision of a vibrant and educational exhibits program in the library a reality. She mounted more than 100 exhibits, and they designed the Atrium Gallery. She also was at the forefront of introducing interactive multimedia and the internet to campus. She worked extensively with diverse groups, creating exhibits with the Vietnamese, Native American, and Japanese American communities, as well as exhibits on the Holocaust and on India temple sculpture. One of the most enjoyable exhibits was bringing a group of Tibetan monks to create a sand mandala, then taking the young monks to Disneyland. Another highlight was creating the stage set for a visit by the Dalai Lama to Cal State Fullerton. When she was introduced to him, he reacted like everyone who has ever met Veronica, seeing her as a unique and lovely soul. She said, "He pulled me close and rubbed noses with me."
After a long and much storied life, Veronica is survived by her husband Scott, her sisters Isabella and Phoebe, her brother Bennie, as well as her three daughters Della, Denise, and Nadine, and her granddaughter Alina. She died at home surrounded by loved ones on her 88th Chinese calendar birthday.
A campus celebration of life will take place on Friday, August 18, at 2 pm in Room 130, Pollak Library North (PLN-130). Contact Jie Tian at jtian@fullerton.edu if you have any questions.