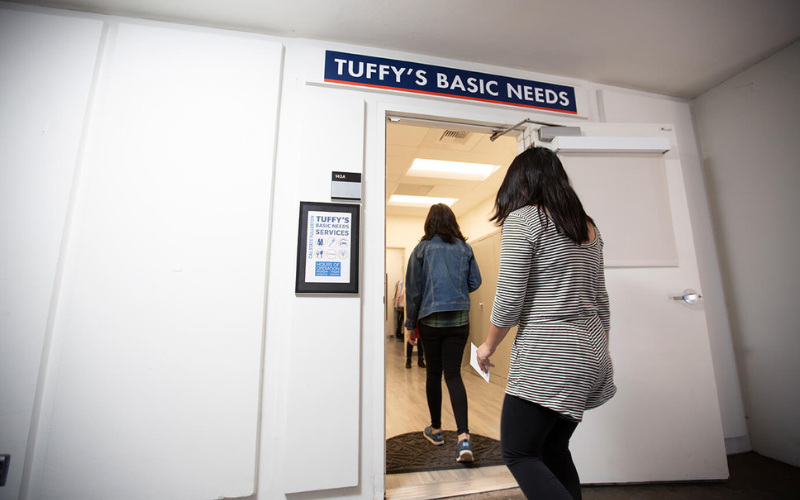 Giving Tuesday is a day made special by our collective giving. A day where generosity warms hearts and donations light up the faces of those benefitting from our kindness.
Tuesday, November 28, will once again serve as Giving Tuesday. On this world-wide day of generosity, Cal State Fullerton is encouraging our community to support Basic Needs Services.
Basic Needs Services (previously known as Tuffy's Basic Needs Services Center) offers need-based funding and support for Titans who are trying to access basic resources and grants that will help keep them on track to graduation.  
Nearly every week, a student walks into Cal State Fullerton's Basic Needs Services feeling overwhelmed. They are often struggling to finance their studies, pay rent, commute to campus, meet family obligations and, too often, they reach a breaking point. No student should face the choice between the degree they seek and the harsh reality of not being able to afford basic necessities. They want to succeed but life has unexpectedly placed them in a situation where fundamental items like hygiene products, food, transportation and housing have become unattainable.
This #GivingTuesday, we have the power to be difference-makers.
Emergency and compassionate funding has a long-standing partnership with Giving Tuesday at CSUF. We've been able to raise more than $50k over the past four years for such causes. We look forward to continued contributions for this vital fund and invite you to make a gift to Basic Needs Services to help CSUF provide greater support to our Titan students when they need it most.
Donations can be made anytime through November 28 at give.fullerton.edu/kindness. And thanks to a generous donor, all gifts will be matched dollar-for-dollar up to $5,000!
For any questions, please contact Grace Johnson at grjohnson@fullerton.edu or 657-278-4795.