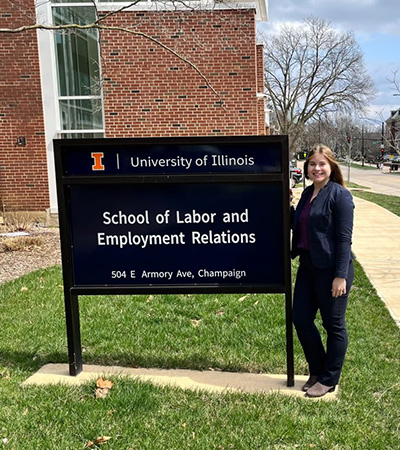 By Daniel Coats '15, '18
Business students from Cal State Fullerton's College of Business and Economics are finding amazing opportunities waiting for them beyond graduation. Opportunities from prestigious companies in their field to the most renowned and exclusive graduate programs.
In April, Amy Risner, a management senior graduating in spring 2023, learned that she had been accepted to one of the top master's programs in human resources in the United States. She will begin her studies at the University of Illinois – Urbana/Champaign this fall.
"I am most looking forward to the connections I will make, not only with the top Fortune 500 companies that recruit directly from this program, but also with my peers," says Risner. "I look forward to broadening my educational foundation in human resources. By taking challenging courses taught by renowned professors, I will be equipped as an HR leader with the analytical and problem-solving skills needed to handle any situation."
This next step in Risner's journey would not have been possible without the rigorous undergraduate coursework at Cal State Fullerton and her involvement in student clubs and professional organizations.
"Among Amy's many accomplishments, she has maintained a near-perfect GPA as a Business Honors student while completing an HR internship at Panasonic, an independent research study on performance management, and co-authoring a book chapter on talent management," says Shaun Pichler, professor of management and human resources at the college and Risner's mentor.
"What's most impressive about Amy is her dedication to service. She has spent countless hours helping other CSUF students develop their business acumen and professional skills through her leadership positions."
Risner served as vice president and then president of the CSUF Society of Excellence in Human Resources (SEHR). She was also active in Business Honors and the Women's Leadership Program.
"My student leadership experience at CSUF has taught me how to lead a team and manage people by building meaningful relationships," says Risner.
"Being a leader in SEHR has grown my ability to recognize my team members' strengths and encourage them to use those strengths to achieve their full potential. The relationship and communication skills I learned while leading the SEHR executive board will transfer when I become a company leader and will be responsible for managing and motivating teams of people."
Ultimately, Risner's career goal is to be a human resources executive at a major company. There is no doubt that she will achieve this goal.