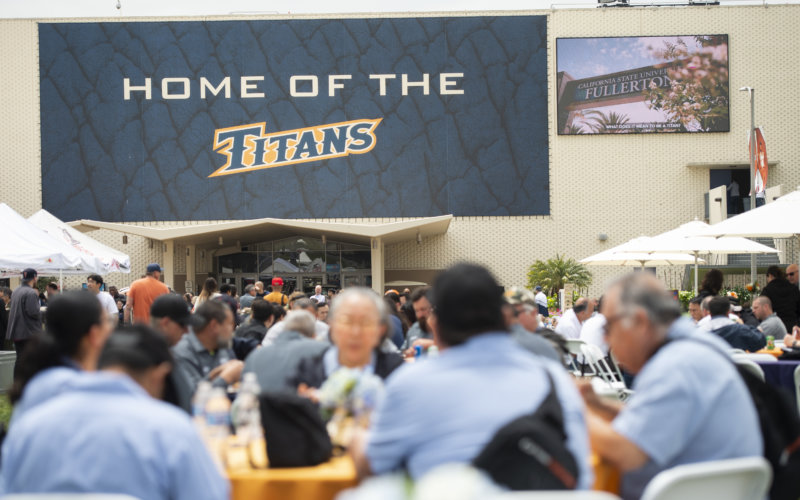 More than 1,000 Titan faculty, staff, and students gathered on Thursday, May 11 on the campus intramural field to celebrate the collective campus achievements of the past five years.
The event was hosted by the Office of the President and the Office of Institutional Effectiveness and Planning, who invited the campus community to reflect on the accomplishments that resulted from the campus's collaborative work during the 2018-2023 Strategic Plan period.
Filled with good food, lawn games, swag giveaways, and even an Italian ice cream truck — the outdoor event was a personification of the pride for CSUF success felt by the entire campus community.
Cecil Chik, assistant vice president for diversity, equity and inclusion, served as the event MC and kicked off the celebration by introducing a video highlighting some of the major milestones achieved for the goals set in the 2018-2023 Strategic Plan. The video featured faculty, staff, and student representatives from across the divisions and colleges highlighting many points of pride. Chik also highlighted the 2018-2023 Strategic Plan Report, which offers a detailed account of CSUF's success on key initiatives and goals in the past five years.
President Fram Virjee greeted Titans with heartfelt thanks for making all of the accomplishments possible and noted some of the impressive highlights of the past five years. Most importantly, Virjee encouraged all to reflect on the great work and celebrate.
While on the heels of Virjee's retirement on July 31, Titans could not let the chance pass by to reciprocate their gratitude to our beloved president as well as first lady Julie Virjee, who led the charge over the past five years.
To the Virjees' surprise, a second video featuring over 30 departments and groups of faculty, staff, and students played on the big screen of the Titan Gym in a montage of "thank you" messages to the Virjees for their service to CSUF.  They will be dearly missed as they depart from our campus this summer.
Miss the event?