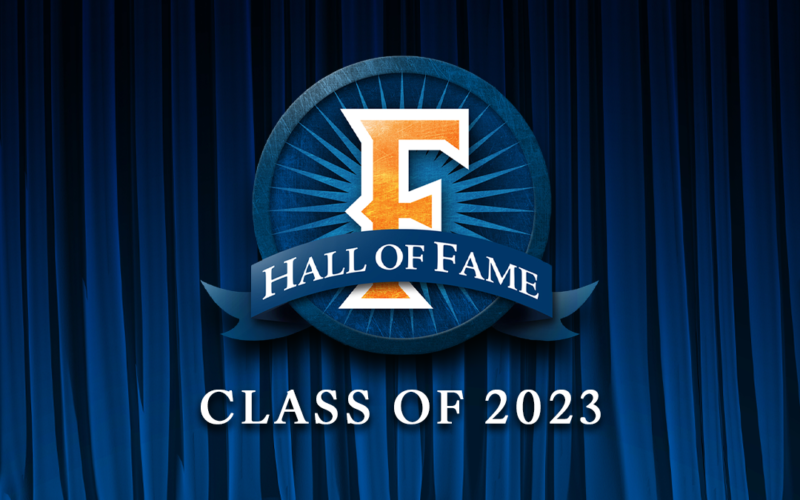 Nominations for the Cal State Fullerton Athletics Hall of Fame Class of 2023 are now open and will be accepted through Sunday, May 7, 2023. To make a submission, please complete the nomination form.
The Cal State Fullerton Athletics Hall of Fame is a biennial event that recognizes the extraordinary achievements of Titan greats. Candidates may be outstanding former university student-athletes, coaches, past athletic administration and staff members, or friends and supporters of Cal State Fullerton.
In order for a nominee to be eligible for consideration, they must meet the following criteria:
Student-athletes who have earned a 4-year degree and distinguished themselves as members of Cal State Fullerton varsity teams and last competed at Fullerton five or more years prior to the date of induction;
In exceptional cases, former students who are non-graduates will be considered based upon the individual's experience at Cal State Fullerton and career achievements.
Past Cal State Fullerton coaches with at least five years of service who have successfully distinguished themselves and their teams to truly reflect Fullerton's mission;
In exceptional cases, an entire team may be recognized for achievement in postseason play and/or distinguishing itself at the national level.
Past athletic administrators and staff with at least five years of service who have achieved outstanding success in their tenure at Cal State Fullerton and serve as models to student-athletes with the traditions of honor, integrity and character or;
Friends who have provided distinguished and sustained support of Cal State Fullerton Athletics.
If deceased, student-athletes, coaches, administrators, and staff members are immediately eligible for consideration, per bylaw adopted in 2021.
Any interested party may nominate a candidate by completing the nomination form to the Cal State Fullerton Athletics Hall of Fame Committee. A thorough nomination addressing the above criteria is encouraged for consideration by the eleven member Hall of Fame committee. There is no limit as to the number of times an individual may be nominated.
Nominees not elected will be placed on a holdover list for future consideration. Click here to see the cumulative list of nominees already up for consideration. Subsequent nominations for these individuals/teams will not increase their chances of being selected.
The Class of 2023 will be the tenth group of distinguished Titans honored with induction. Nominations are due by Sunday, May 7th. The class will be announced in early summer and a formal ceremony will take place later this year. More information pertaining to this event will be shared in the future.
Cal State Fullerton Athletics Hall of Fame Full List (By Class)
Class of 2005 (Nov. 5, 2005)
Greg Bunch – Men's Basketball
Nancy Dunkle – Women's Basketball
Tami Elliott-Harrison – Women's Gymnastics
Augie Garrido – Baseball
Susan LeFebvre – Softball
Eugenia Miller-Rycraw – Women's Basketball
Tim Wallach – Baseball
Class of 2007 (Oct. 27, 2007)
Mark Collins – Football
Judi Garman – Softball
Heather Killeen-Frisone – Cross Country/Track & Field
Mark Kotsay – Baseball
Phil Nevin – Baseball
Leon Wood – Men's Basketball
Class of 2009 (Oct. 10, 2009)
Damon Allen – Football
Connie Clark – Softball
Barbie Myslak-Roetert – Women's Gymnastics
Dan Boone – Baseball
Gene Murphy – Football
Class of 2011 (Oct. 1, 2011)
Bruce Bowen – Men's Basketball
Brent Mayne – Baseball
Lynn Rogers – Women's Gymnastics
Susan Lewis-Newton – Softball
Merilyn & Jerry Goodwin – Titan Athletics Supporters
Class of 2013 (Oct. 11, 2013)
Carol Johnston – Gymnastics
Mike Fox – Soccer
Coach Bobby Dye – Basketball
The 1995 Baseball Team
Class of 2015 (Oct. 14, 2015)
Ted Silva – Baseball
Jenny Topping – Softball
Mark Covert – Cross Country
Neale Stoner – Athletics Director
Associated Students, Inc. – Athletics Supporter
Paul Folino – Athletics Supporter
Class of 2017 (Oct. 27, 2017)
Tiffany Boyd – Softball
Mel Franks – CSUF Sports Information Director
George Horton – Baseball
Kurt Suzuki – Baseball
Kathy Van Wyk – Softball
Class of 2019 (Nov. 4, 2019)
The 1984 Football Team
Bobby Brown – Men's Basketball
John Fishel – Baseball
Brittany Moore – Volleyball
Heizaburo Okawa – Fencing Coach
Dick Wolfe – Gymnastics Coach
Class of 2021 (Feb. 10, 2022)
The 1986 Softball Team
Erin (Saddler) Henry – Women's Volleyball
Giovanni Lanaro – Track & Field
Mike Pringle – Football
Dr. Ken Ravizza – Staff/Administration
Questions? Please contact the Athletics Development team at athleticevents@fullerton.edu or 657-278-4988.