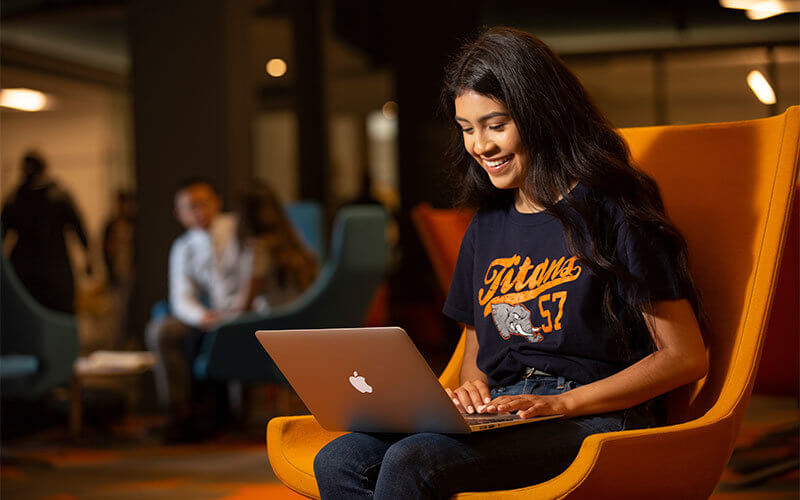 For students looking for a more flexible schedule or don't want to deal with full or waitlisted classes, there is an alternative. Online degree completion programs extend beyond the traditional classroom, making them a viable and convenient option for those who want to pursue higher education.
At Cal State Fullerton, these options include the Online B.A. in Humanities and Social Sciences, the Online B.A. in Business Administration, and the Online B.A. in Sociology program.
Adelia Jones, a military spouse who needed a flexible way to earn her bachelor's degree found this through the online B.A. in Humanities and Social Sciences program, which allowed her to attend classes when she and her family moved to Delaware. "The online option was the best thing that ever could have happened," Jones said. "Without it, I wouldn't have earned my degree. I would 100% recommend it, especially to military members and spouses."
Patrick White also completed an online degree program at CSUF, through the Online B.A. in Business Administration. He enjoyed how the program allowed him to pursue a degree while working full-time. "Cal State Online worked for me because it's probably the only way that I was going to be able to finish my bachelor's degree," he says.
Other benefits to CSUF's online degree programs are that students are taught by the same faculty members who teach on campus, receive the same degrees, and even get to attend the on-campus commencement, if they chose. This means students enjoy the convenience of virtual learning without compromising their college experience.
There are many paths to pursuing an education, and earning an online bachelor's degree is one to consider. Applications are currently open for the Fall 2024 online degree completion programs at Cal State Fullerton. Explore CSUF's programs and apply now at https://extension.fullerton.edu/onlinedegrees/.