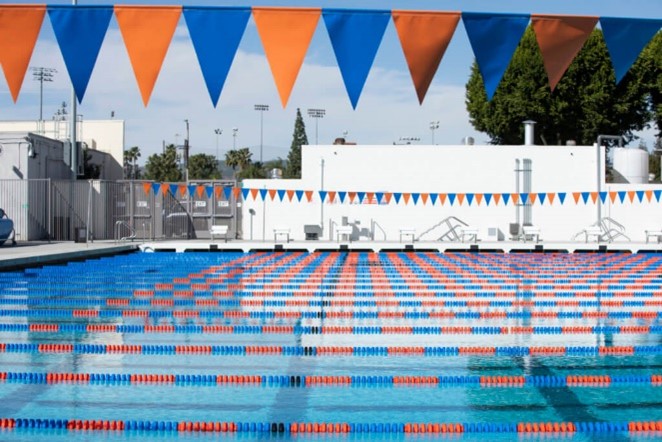 The Athletics Department is pleased to announce that open swim hours are currently available to students, faculty and staff in the new Olympic-sized swimming pool, east of the Kinesiology and Health Science (KHS) building. Improve your mental and physical health this semester, without leaving campus with open or lap swimming on your lunch break. Get a splash in this fall semester and join us for the Grand Opening on Oct. 6 at noon at the pool.
Open Swim for Employees & Students
Hours
Monday through Friday from 12:00 pm to 1:15 pm.    
Available to
Employees and students 18 years of age or older with a picture or Titan ID.
Accessing the pool
Before accessing the pool, you must sign the University Release of Liability and Pool Rules, which will allow you access to the pool for all of 2022-23. Sign the required waivers here. 
The new 50-meter-long pool was completed in March 2022. The new pool has eight lanes and was fitted with new pump equipment, chemical feeders for enhanced cleaning, modern heating equipment, more lighting, and an adjustable bulkhead for adjusted diving.
If you have any questions, please contact Nick Cornejo in Athletics at x2978 or ncornejo@fullerton.edu.