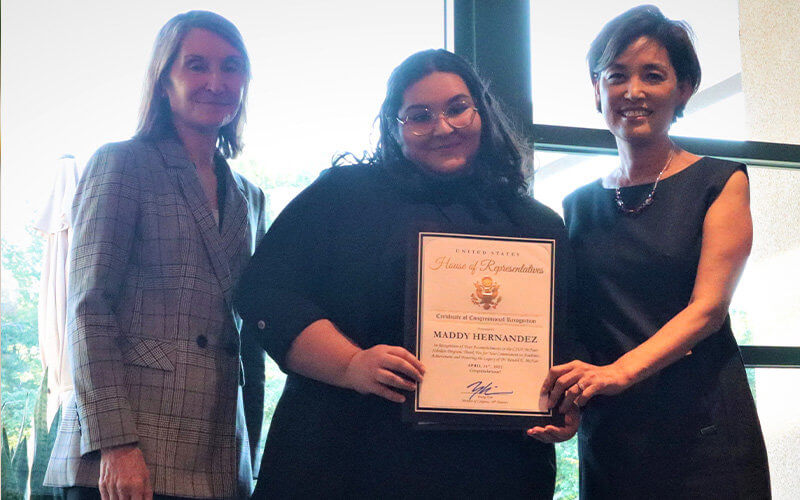 Madalyn (Maddy) Hernandez, a psychology undergraduate student and McNair Scholar, was awarded a prestigious Barry Goldwater Scholarship. She joins a list of only three other elite students from CSUF who have won the Barry Goldwater Scholarship since 1986. The Goldwater reviewers faced the difficult task of selecting scholarship recipients from a pool of 1,242 outstanding undergraduates nominated by 433 institutions across the country.
Established by Congress in 1986 in honor of former U.S. Senator and 1964 presidential candidate Barry Goldwater, the Barry Goldwater Scholarship supports outstanding students who seek to pursue research careers in the natural sciences, mathematics and engineering.
Madalyn's research focus is on sexual perpetration because she wants to reduce the urge for sexually violent behavior and discourage the further victimization of survivors of sexual abuse. This summer, she will attend a summer research program at Notre Dame University to continue her scholarly work. She plans to earn a Ph.D. in psychology to continue her research on the nuance of perpetration, which will help her achieve her goal of establishing a distinguished psychological theory of sexually violent motivators.
Scholarships are awarded based on merit to students who are sophomores or juniors during the current academic year, who have excellent academic records, and who have a demonstrated interest in and potential for research careers in the natural sciences, mathematics or engineering.
The scholarship covers eligible undergraduate expenses for tuition, fees, books, and room and board to a maximum of $7,500 per academic year. Applying for the scholarship is an important early step that sets students down a path towards making them more competitive for graduate school fellowships and, ultimately, research careers in these fields.
Contact: Monique Posadas, assistant director of the Ronald E. McNair Post-Baccalaureate Achievement Program and campus representative for the Barry Goldwater Scholarship and Excellence in Education Foundation, mposadas@Fullerton.edu