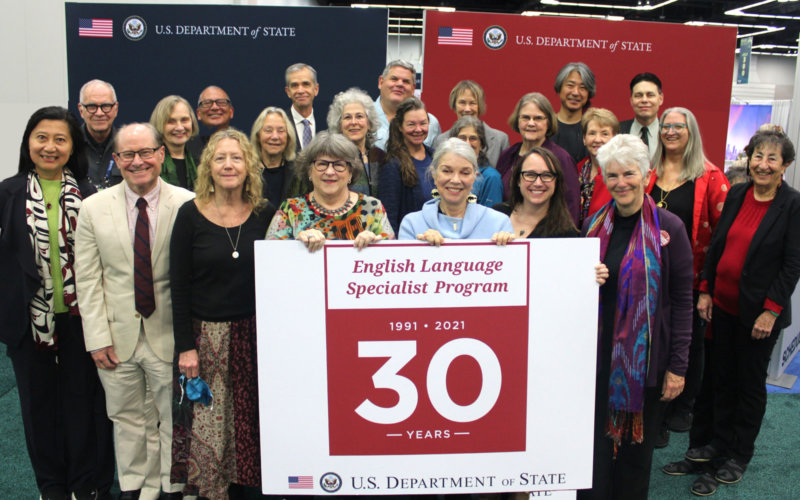 Nathan Carr, a professor of TESOL (Teaching English to Speakers of Other Languages) at Cal State Fullerton, was one of 30 educators honored as part of the English Language Specialist Program's 30th anniversary in 2021. However, due to the pandemic, the celebration was rescheduled to March 2023 during the International TESOL Conference. Specialists are top-tier TESOL experts who lead intensive, high-level English language projects, including teacher training, curriculum development, materials design, and ESP program implementation. Specialist projects vary in length from two weeks to three months and may be in-country or virtual.
Carr recalls being at a birthday party for a colleague when a friend in common approached him. After learning he specialized in language testing, she told him about a State Department program looking for someone to go to the Maldives for two weeks to do teacher training in language assessment. "They didn't need me for that, but I was on the list and then got contacted a year or two later about my first trip to Vietnam in 2012," explained Carr.
In 2019, Carr assisted in revising the English language portion of Azerbaijan's national 9th and 11th-grade school-leaving examinations as part of his assignment with the English Language Specialist Program. Carr and three to four English colleagues were sequestered for five days with a group of test writers for other subjects in a secure test development environment called the Bunker. "It was difficult because I had no references or internet access. It was a fun challenge since I had to call upon my mental resources and nothing else. The sense of camaraderie was also very nice.
"It was surreal in a few ways. The security check to go in was extremely thorough, in the sense that you couldn't take in even a pocketknife, a metal dental pick, or a flashlight—any sort of tool or thing you could use to signal outside, anything to dig into walls, etc." He recalled them going through everything carefully. Carr reflects that the precautions might seem overwhelming to most of us in this country. Still, they are necessary to reassure the public of the integrity and incorruptibility of the process.
"Imagine if you got to take the SAT once in your life. There were few community colleges. That one SAT would determine whether you got to go to college and whether it would be free, partially subsidized, or completely at your family's expense. The stakes are so enormous, and that's why the State Examination Center goes to such extremes to maintain security."
On March 21, 2023, the English Language Specialist Program flew Carr to Portland, Oregon, for five days, where he participated in the International TESOL Conference. The conference organized a breakfast where the "30 at 30" specialists in attendance discussed applying to the program, networked with attendees, and met the Deputy Assistant Secretary of State of the United States. "It was very nice. I felt honored to be one of just 30 out of the many specialists who have served in the program. The State Department spent a lot of money and resources to do this, and I appreciated it. It just underscored, for me, the value that they place on this program."