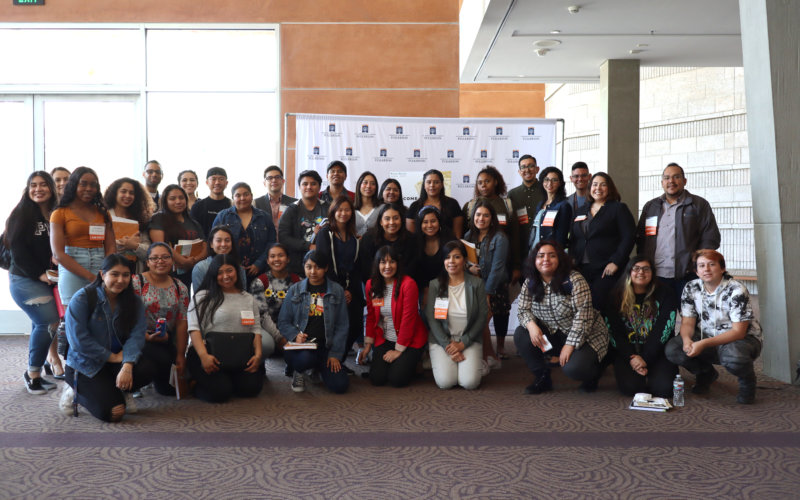 The Career Center's "I Am First" Program has received the Career Services Excellence Award for large schools from the National Association of Colleges and Employers (NACE). The "I Am First" program was recognized for demonstrating excellence in career services best practices.
The program was created by Elizabeth Zavala-Acevez, associate vice president for student affairs, Jennifer Mojarro (career center director), and Stephanie Reyes (senior associate director). The program was launched and came into fruition with intentional allocation of GI 2025 funds under the leadership of Tonantzin Oseguera, vice president for student affairs. In the Fall of 2019, the Career Center leadership team identified a need to assist in the university's work of closing the equity gap for the underrepresented student population at CSUF. The university also recognized the need for designing tailored career readiness education for first-generation college Titans along with other topics relevant to the first-gen student experience.
In the Spring of 2020, the "I Am First Program" (IAF) was launched, a cohort-based program designed intentionally for first-generation Titans. The main objectives of this program consist of facilitating an asset-based approach mindset and fostering a sense of community/belongingness among their first-gen peers and the campus community. This is accomplished through sessions that focus on self-reflection, career readiness, and providing high-impact experiences around building social capital. Students are paired with a CSUF alumnus mentor to help them begin adding to their professional networks and gain expert advice and wisdom from fellow Titans. The program has had a total of eight cohorts of approximately 35 – 45 students successfully complete the nine-session semester-based program since our program launch in 2020.
Upon completion of the IAF program, students receive a career readiness certificate signed by President Fram Virjee and the career center director, along with an opportunity to receive a $250 scholarship. The program recently started a partnership with the CEO Leadership Alliance of Orange County (CLAOC) to provide micro-internship opportunities for past and current I Am First students. Through this opportunity, students can receive a $500 stipend from CLAOC and an additional $500 scholarship from the IAF Program.
The "I Am First" program has received generous support from the Crevier Family Foundation which has allowed the continuation and expansion of the program available to students three times per academic year.
For more information regarding the I Am First Program please visit or contact Stephanie Reyes at sreyes@fullerton.edu for more information.