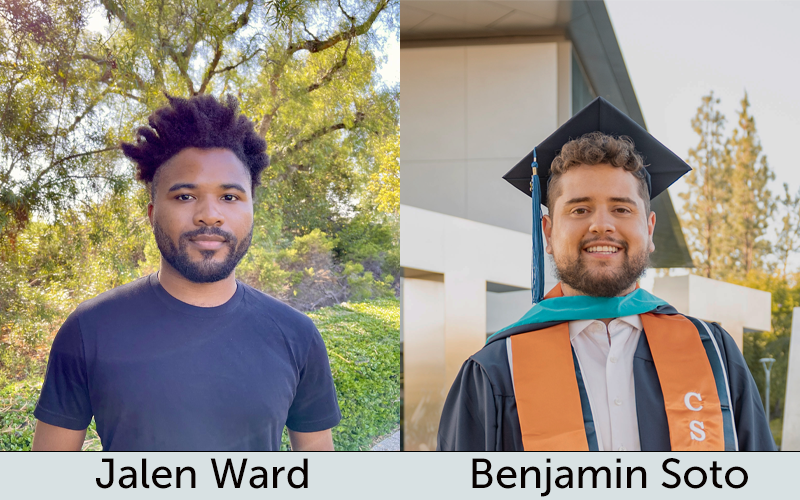 Two Titans are among 12 doctoral students from across the country who have been selected for the 2023-24 American Political Science Association's Diversity Fellowship Program, which is designed to uplift aspiring political science scholars from traditionally underrepresented racial and ethnic groups.
Jalen Ward '20 (B.A. political science) and Benjamin Soto '22 (M.P.A.) are the second and third students from Cal State Fullerton to receive the fellowship in the program's 54-year history. The first, Austin Barraza '19 (M.A. political science), received the honor in 2019.
"I feel a lot of pride in representing CSUF on this scale," said Ward, who is currently a second-year master's student at CSUF. "The fact that I wouldn't even have this opportunity without the support of the (Politics, Administration and Justice) division makes this all the more gratifying. It shows the commitment faculty have to their students and the return on investment CSUF and Titans get out of this relationship."
Soto agreed mentors were the key to his success. As a research specialist in the Social Equity Research and Policy lab, he developed a solid research foundation working with the lab's director, Lidia Nuño, and co-director, Veronica Herrera. As a M.P.A. graduate student he gained invaluable experience as a city management fellow thanks to the mentorship of Shelly Arsenault, professor of political science and public administration.
"It makes me feel extremely grateful that I found great mentors who go above and beyond in everything they do to help students navigate academia," Soto said.
Each year, the APSA awards between 12 and 14 applicants with the fellowship. Applicants must be undergraduate seniors, recent graduates or others in the process of applying for a doctoral program in the political science field; members of a historically underrepresented racial or ethnic minority group; and demonstrate an interest in teaching and potential research for political science.
"There have been occasions in the past when more than one recipient has been enrolled at the same university, but it is rare," said Kimberly Mealy, senior director for diversity, equity and inclusion and strategic initiatives at APSA.
Those who have been accepted into the program receive $5,000 over two years, access to professional development support to attend the APSA Annual Meeting, information about upcoming funding opportunities and access to the APSA Mentor Program and webinars.
Over the years, the program has awarded more than 600 fellowships.
"I applied for the fellowship because it was an excellent way to get motivated to take on the beast that is a Ph.D. program," Ward said. "Sometimes when faced with a daunting task, it's nice and reassuring to vet yourself in the eyes of an institution you respect. I love the learning opportunities APSA has provided and want to take advantage of them."
Soto said he wishes to learn from experts in race and ethic politics to refine his skills as an academic researcher.
"I hope this fellowship helps me reach my fullest potential by opening many doors and possibilities to assist me in my academic journey," he said.