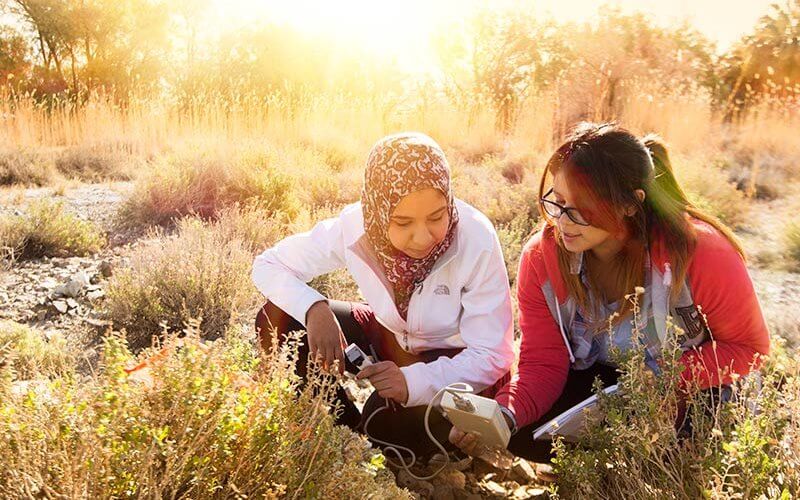 The Undergraduate Research Opportunity Center (UROC) provides expanded funding opportunities and support for diverse undergraduate engagement in faculty-guided scholarly research and creative inquiry across all disciplines and programs at CSUF.
Research and original creative work have powerful benefits for all students; these experiences improve the undergraduate experience for diverse groups of students and across the curriculum. The Council on Undergraduate Research (CUR) defines undergraduate research as "an inquiry or investigation conducted by an undergraduate student that makes an original intellectual or creative contribution to the discipline."
UROC understands that student research occurs along a spectrum and supports both early-phase and more advanced work. While the faculty-guided projects will be from all fields of study and take many forms, they are all motivated by a spirit of inquiry and participation in the active conversation of a scholarly, professional, or creative field of study.
In keeping with the University's Academic Strategic Plan, the UROC Fellowship Program supports student discovery, innovation, and success, as well as a commitment to diversity and inclusion. This enhances the climate of research, creativity, and scholarship for all CSUF undergraduates. UROC funding also supports undergraduate work in basic, translational, and applied sciences, the arts, media, technology, social sciences, engineering, and humanities.
Award applicants will be selected on a competitive basis to pursue a mentored experience under the guidance of CSUF faculty. The funding supports student stipend, travel, supplies and materials, and other project related expenses. Criteria for selection include academic, creative, or professional strength and significance of the proposed project; level of the student's skills to complete the project as demonstrated by the academic record and faculty mentor recommendation; feasibility of the proposed project; quality of writing in the narrative proposal.
Prior to applying, interested applicants must contact their potential faculty mentor to discuss the project plans and confirm that the faculty member is willing to provide mentorship for the period in question. A brief recommendation form from the mentor is required as part of the application process. Proposals must also include a detailed description of the project, grounded in the academic, creative, or professional field, a work plan, indicating the activities that will support the proposed research or creative work, as well as a budget, the timeline of activities, and the plan for dissemination of results.
We encourage applications from teams of students although it is not required. Each team will appoint a Team Lead. The Team Lead is responsible for submitting the application. Proposal materials should be developed collaboratively, and the group will typically work with one faculty mentor. Team members will share one award.
Undergraduate students funded by this program are expected to:
● Conduct original research or creative work, under the direction of a faculty mentor;
● Commit at least 10 hours per week for a total of 300 hours for academic year awards;
● Participate in one research skills workshop and one diversity and inclusion in research and creative activities workshop offered by the UROC;
● Participate in the UROC Canvas Community. You will submit monthly progress reports, verified by faculty mentors, including hours committed, tasks completed, and reflections on the research and creative activities;
● Present their work through a UROC Symposium/SCAR day; Submit a final report through the UROC Canvas Community.
Application Components: Begin the application process in InfoReady at least 2 weeks prior to the application deadline to review the component details and initiate faculty recommendation process.
1. Project Title and Summary (250 words)
2. Proposal Essay (3-5 pages)
● Introduction and background
● Methods or process
● Plan and timeline
● Skills
● Budget summary and rationale
● Communication and impact
3. Detailed Budget
4. Faculty Mentor Recommendation Form
---
Be sure to review your application materials with your Faculty Mentor.
Utilize UROC workshops and proposal drop-in hours and/or CSUF's writing center to receive feedback.
See www.fullerton.edu/uroc and https://english.fullerton.edu/writing_center/ for more details
Submission Deadlines
FALL 2023 Application Deadline – October 20, 2023
● Apply for faculty-mentored independent project funding: UROC 2024 Spring Grants
● Timeline and budget may include:
○ Spring 2024 (up to $4500 for Student; $500 for faculty)
(expected award notification mid-November)
SPRING 2024 Application Deadline – March 1, 2024
● Apply for faculty-mentored independent project funding: UROC 2024-2025 Academic Grants
● Timeline and budget may include:
○ Fall 2024 (up to $4500 for Student; $500 for faculty)
○ Spring 2025 (up to $4500 for Student; $500 for faculty)
○ Academic Year 2024-25(up to $9000 for student; $1000 for faculty)
(expected award notification mid-April)