Business leaders and entrepreneurs are among the incoming members of Cal State Fullerton's Philanthropic Foundation Board of Governors, the nonprofit auxiliary organization established to build and strengthen relations with the community and encourage advocacy, investment in and support of the university.
New Board Members
Sylvia A. Alva, president, Cal State Fullerton
Laura Archuleta '86, '91, president and CEO, Jamboree Housing
Maysem Awadalla, president, CSUF Associated Students Inc.; student representative
Paul Carter '92, partner, Bergkvist, Bergkvist, and Carter, LLP
Tricia Esser '91, president and CEO, KTGY Architecture + Planning
Kathleen (Kathie) Hodge '71, retired president, Fullerton College; alumni representative
Darren Jones '91, executive director, technology strategy and transformation, The Walt Disney Co.
Jonathan Morales

'06, managing director for community and business development, JP Morgan Chase

Payman Roshan, senior vice president and area manager, Kaiser Permanente Orange County
Pamela Schweitzer '82, retired, assistant surgeon general and 10th chief pharmacist officer, United States Public Health Service 
Chris Venhoff

, senior vice president, U.S. Bank, branch banking market leader for Orange County
Board Chair and Board Chair-Elect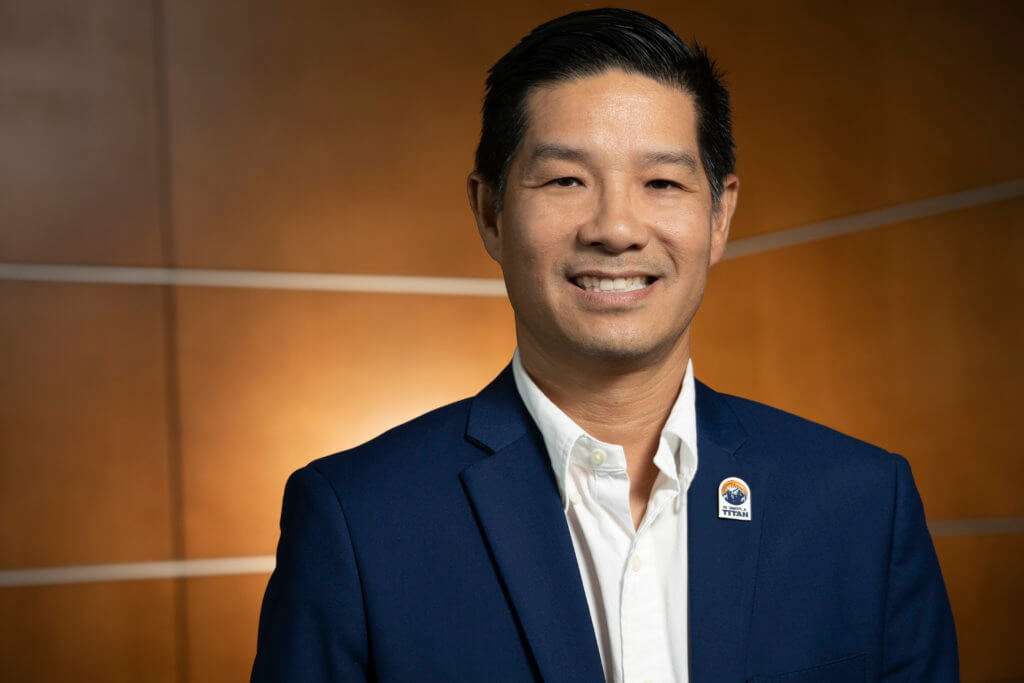 Board chair: Tam Nguyen '05, president, Advance Beauty College
Board chair-elect: Jon C. Smith '02, partner, Assurance Practice, Ernst & Young LLP
Returning Board Members
Michael Boomsma, senior vice president of education and facilities, Cordoba Corp.
Joseph Cervantes, executive vice president of operations, R.D. Olson Construction
Bill Cheney, president and CEO, SchoolsFirst Federal Credit Union
Matt Clabaugh, principal, The Valencia Group Inc.
Ajá Reneé Clarke, chief of staff, office of the CEO, Southern California Edison
Scott Coler '85, president, Capital Pacific Real Estate
Rachelle Cracchiolo

'71, '76, CEO, Teacher Created Materials

Terry M. Giles '70, owner and president, Giles Enterprises
Gary Green '80, executive regional director, California Bank & Trust
Laurie Haack, '79, '06, radar software product line manager, Raytheon Technologies Corp.
Tina Javid, regional public affairs manager, Southern California Gas Co.
Robert E. Jechart '79, founder and CEO, RJE Enterprises
Larry Labrado '97, director of corporate social responsibility and strategic initiatives, Disneyland Resort
Peter W. Mitchell, president and CEO, P.M. Consulting Inc.
Sonny Nguyen, CEO, 7 Leaves Cafe
Scott O'Brien '77, chairman, The Safariland Group
Ingrid Otero-Smart, president and CEO, Casanova/McCann
Gregory J. Saks, vice president, University Advancement, Cal State Fullerton
Douglas G. Stewart '87, chairman, Marts & Lundy
Kathleen Taylor '82, investor/co-owner, retired, MV Properties
Natalie Tran, chair, CSUF Department of Secondary Education; director, Ed.D. Program; faculty representative
Paul Treinen '90

, managing principal of office, CliftonLarsonAllen LLP

Jeffrey S. Van Harte '80, chairman and CIO, Jackson Square Partners
Ex-Officio
Stefanie Light '96, chief of operations, University Advancement, Cal State Fullerton; secretary
Jason Ono, CFO and assistant vice president, University Advancement Administration and Finance, Cal State Fullerton; chief financial officer
For more information, visit foundation.fullerton.edu/governance/governors.aspx.