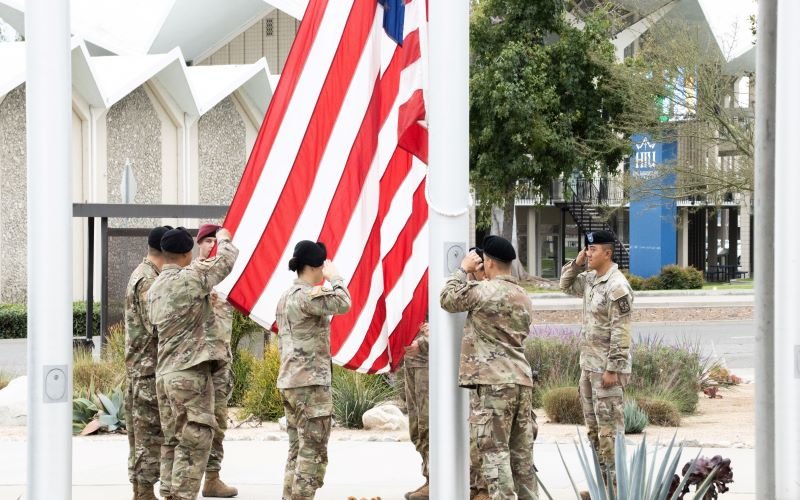 Cal State Fullerton is committed to honoring and supporting student veterans and military families as an important part of our campus community. We ensure that this group of individuals receive the support and resources they need to succeed in their academic efforts through the Veterans Resource Center (VRC).
The university's diverse and welcoming atmosphere extends to our student veterans and military-affiliated students. The VRC serves as a support hub, providing important services such as academic advice, mental health resources, and assistance in navigating financial aid alternatives such as the GI Bill.
However, our devotion extends beyond the administrative. The VRC also conducts events and activities that build a sense of connection among military-affiliated students to make them feel more at home. The VRC organizes activities to address the particular challenges experienced by our student veterans and military families. These include recognizing Veterans Day to offering workshops on adjusting to civilian life.
We understand how important it is to recognize and support these individuals throughout the year. Our commitment to diversity, equity, and inclusion at Cal State Fullerton ensures that every member of our campus community may thrive and contribute, regardless of their backgrounds or experiences. We invite everyone to learn about the services and programs available at the Veterans Resource Center and to show their appreciation to the brave individuals who have served our country and their families.
November 2023 Events
Tuesday, November 7 – Flag Raising, 11 a.m., at Langsdorf Flag Poles
Wednesday, November 8 – Branch Recognition, noon at GH-244
Thursday, November 9 – 248th Marine Birthday Celebration, noon at GH-244
Wednesday, November 15 – Veteran Connection Job Fair, 11 a.m., TSU Pavilions A
Tuesday, November 28 – Doggy Therapy for Vets, noon, GH Third Floor Balcony
Thursday, November 30 – Vets vs Cadet Flag Football, 7 p.m, Titan Track Complex