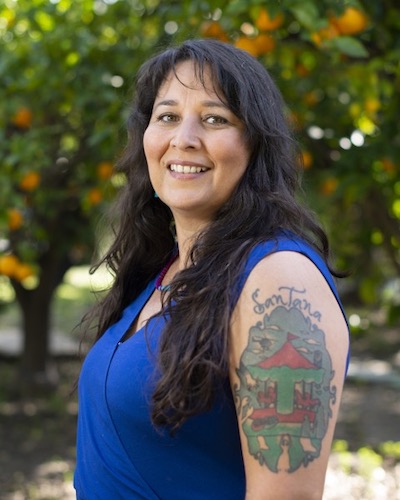 Sarah Rafael García, visiting professor of creative writing for the Latinx Lab, will teach "Creative Writing through Public Art" at CSUF during Spring 2024.
Currently, García is leading students through multi-media literary projects in an intermediate creative writing course (ENGL 306) titled "Ethnofiction Through Contemporary Narratives," which combines storytelling with the digital humanities. Next semester, she plans to expand and challenge student understanding of the relationship between the written word and public art.
In this intermediate creative writing course, students will visit public art on campus, read artist statements, essays, poetry, criticism and texts by contemporary artists and writers. Reading assignments and writing experiments (of all genres) will provide a consistent writing practice. Students will discuss assigned readings, keep a weekly creative journal, and comment on each other's writing.
Additionally, students will have the opportunity to exhibit creative writing through critical public art in the form of installations, zines, poetry videos, spoken word, QR codes, or AR/VR storytelling. For more information, email Professor García: sarahgarcia6@fullerton.edu
Registration is open, seats are limited; course information:
ENGL 306 section 02 (Class ID# is 21284), TTH 8:30-9:45am