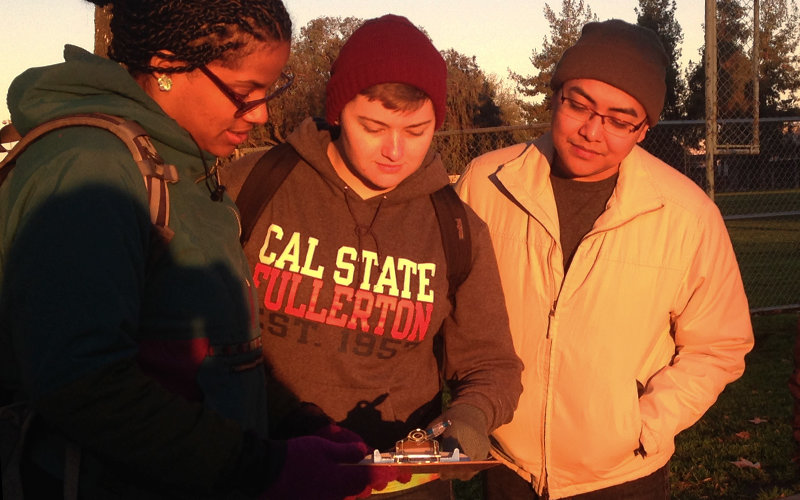 Update: More than 200 Cal State Fullerton students and 10 faculty members comprised two-thirds of the group deployed from the CSUF center for the Jan. 28 Orange County count of the homeless population. The CSUF center was assigned the most maps — 78 of 270 — of any deployment center in the county. 
"Knowing that I participated in something that could help those in need is hubling," said geography graduate student Amanda Yepiz. "As a geographer, I've realized that what we do goes beyond just being given a map and a flashlight (the materials given to volunteers to conduct the count). It's about the people, and looking for ways, however small to make an impact in their lives, no matter where they are on a map." 
Cal State Fullerton students and faculty will help early Saturday, Jan. 28, when the campus becomes one of five deployment centers for Orange County's count of the homeless population.
Zia Salim, assistant professor of geography, and Casey Crosbie, a part-time lecturer of social work, are co-organizers of the campus deployment center; also assisting is Ellen Lee, a part-time faculty member in health science and chair of the CSUF/Community Collaborative on Homelessness.
Volunteering with the count offers students an experience both meaningful and educational, Crosbie said.
"Students will learn about a major social issue that affects Orange County, and through their participation take an active hand in creating a solution. While doing so they will also learn practical skills, such as comfort speaking to strangers and working closely as a team to accomplish large projects," he said.
Titans who learned about homelessness in Salim's fall "Cities and Suburbs" class volunteered to help in the count.
"I'm excited that they are taking the initiative to continue their learning outside the classroom and help in the community," Salim said. "More broadly, geography students are trained in mapping and spatial thinking. Many of our students are participating in the point-in-time count this year, which lets them apply their classroom skills to address an important social issue."
Students in a spring semester criminal justice course studying policing the city will participate also, he said. Lee and the CSUF Community Collaborative on Homelessness helped with the center and recruitment of students.
OC Community Services partnered with 211 OC and the Health Care Agency to conduct the count. Conducted every two years, the survey helps organizations understand the county's homeless population and the people's needs for housing and care in the region. About 1,500 are needed to span the county for the count, and volunteers reporting Saturday to Titan Gym will be dispersed from 4:30 to 9 a.m. to predetermined spots in Fullerton, Placentia, Yorba Linda, Brea, Anaheim, Orange, La Habra, Buena Park and Cypress for the count.
Tens of millions of dollars in possible funding is determined by the biennial count that is conducted at a federally mandated time. The accuracy of the count helps determine the types of services and funding the Department of Housing and Urban Development disperses to the county.