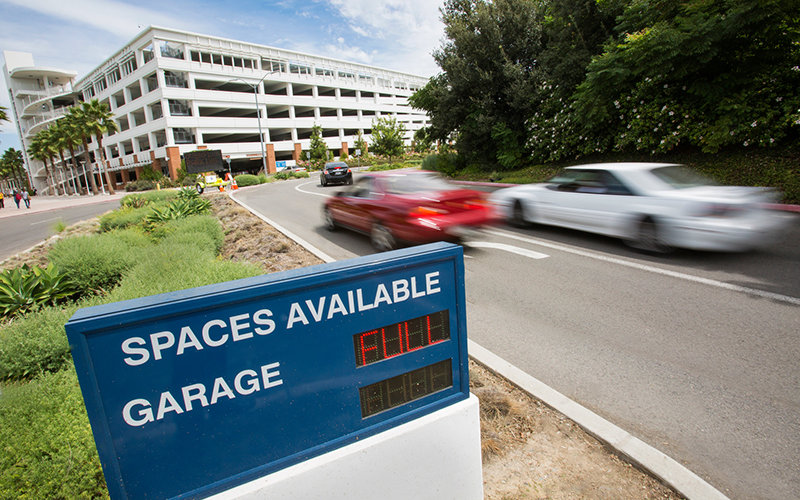 With the beginning of the spring semester, the campus will again be filled with staff members, administrators, educators and students. The first weeks of the semester usually have an uptick in people on campus all day long and that means parking is at a premium.
So, Parking and Transportation Services has come up with five ways to help ease the parking crunch during the first four weeks of the semester.
Overflow Parking and Shuttle Service
Students, faculty and staff members may park at the Evangelical Free Church in Fullerton, or on the top level of parking structure C at the Brea Mall, and leave the driving to campus to a shuttle bus. The parking and shuttle service will be available from 7 a.m. to 6 p.m., Monday through Thursday beginning Jan. 23 and continuing through Feb. 16.
Campus members can park on levels two and three of the Evangelical church's parking structure — a total of 550 spaces — at 2801 Brea Blvd., Fullerton, 92835. Shuttles will pick up riders on Brea Boulevard, just north of the structure entrance and drop off to the University at a stop on Gymnasium Drive, just north of the State College Parking Structure.
Another 286 parking spaces are available to CSUF commuters on the top level of the Brea Mall's parking structure between Macy's and JCPenney. The shuttle pickup and drop off will be on the ground level of the structure by the elevator lobby near JCPenney. 
Shuttle pickups will run every 10-15 minutes at both locations. Campus parking permits are required to park at both sites and cars left after 6 p.m. will be subject to tow.
Assisted Parking
Assisted parking, where drive aisles are used as temporary parking once a lot is filled, is being offered in four campus lots this semester.
The service will be available to all members of the campus community in Parking Lots A and G — on the north west and north sides of campus — and Lot E along the 57 Freeway between the Eastside Parking Structure and student housing. For faculty and staff members, it also will be offered in Lot F behind the Humanities-Social Sciences Building from Jan. 23 through Feb. 16.
The service will be offered Mondays through Thursdays, 8 am. to 4 p.m. More information is available online.
Parking at Titan Hall
The parking lot of the University's newest property, Titan Hall, at State College Boulevard and Dorothy Lane, is now open and offering additional spaces for faculty, staff and students. Permits are still required.
Short-Term Parking for Faculty and Staff
Coming to campus for a single class or a meeting? Three-hour parking is now available throughout campus. Parking spaces previously identified as carpool only until 10 a.m. are now also available for short-term needs.
Carpoolers with the university carpool permit can park in these locations all day; faculty and staff members with valid parking permits can park there for up to three hours. The three-hour time restriction will be strictly enforced.
Alternatives
To avoid the parking hassle entirely, Cal State Fullerton offers various transportation options. Check out the choices of carpool parking, using the Metro train or buses. More information is offered at the Parking & Transportation Services website. 
More questions? Call Parking & Transportation Services at 657-278-3082, Mondays through Friday, 8 a.m. to 5 p.m.