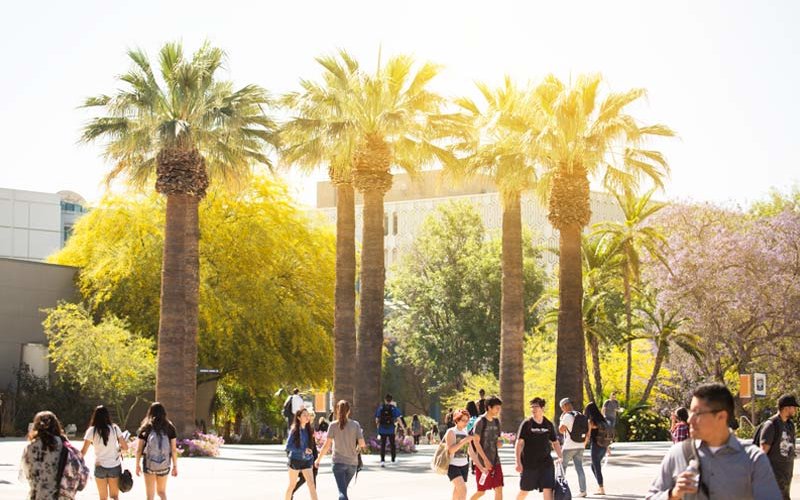 New and old members of the campus community have been recently named to positions throughout the campus. Among the new appointees:
Alyssa Adamson joined the Office of the Provost and Vice President for Academic Affairs Aug. 1 as the senior director of academic finances and space management.
Emily Bonney, former chair of the Academic Senate and professor of liberal studies, has been serving as interim assistant vice president for academic human resources in the Division of Human Resources, Diversity and Inclusion since July 1.
Erica Bowers, professor of literacy and reading education, was named to a three-year term as director of the Faculty Development Center, in May.
Tami Bui joined CSUF on July 24 as associate vice president for government and community relations in the Division of University Advancement.
Ed Collom joined the campus as director of the Office of Faculty Affairs and Records in Academic Affairs June 26.
Karyn Scissum Gunn became associate vice president for academic operations in the Division of Academic Affairs July 17.
Hallie Hunt became the new dean of students in the Division of Student Affairs effective July 10.
Phenicia McCullough was appointed interim assistant vice president for human resources operations effective Sept. 1.
Clint-Michael Reneau, became associate vice president of student affairs overseeing the retention cluster July 17.
Catherine Ward was named interim director of the Veterans Resource Center effective Aug. 2.
Shelli Wynants, lecturer in child and adolescent studies, was named to a three-year term as director of Online Education and Training in June.
New Professional Staff at Associated Students Inc.
Lionel Lawrence as financial services director
Valerie Rivera as director of the Children's Center
Aaron Tapper as director of Titan Recreation Center
Drew Wiley '08, '11 (B.A. political science, MPA-human resources) as director of leader and program development, a position that he has served in on an interim basis. Joining Wiley are new coordinators Asha Nettles and Austin Ysais.
Chairs Appointed/Reappointed
Laurence Timm was appointed to a one-year term as director of the School of Music, and David Mickey a three-year term as chair of theatre and dance, effective July 1.
Jason Shepard was reappointed chair of communications but as he will be on sabbatical during the fall 2017 semester, Cynthia King will serve a one-semester term as acting chair.
Renae Bredin, chair of former program, now department of women and gender studies, and HyeKyeung Seung, chair of  the new department in communication sciences and disorders.
Other appointments or reappointments effective Aug. 17 and for three years unless otherwise noted:
Gerard Beenen, chair of management
Leah Brew, chair of counseling
Siobhan Brooks, chair of African-American studies, one-year term
Diane Clemens-Knott, one-year appointment as chair of geological sciences
Kristine Dennehy, chair of history
Mark Drayse, chair of geography and the environment
Barbara Erickson, John Patton and Carl Wendt were reappointed coordinators for the cultural, evolutionary and archaeology sections within the Division of Anthropology
Mark Fischer, chair of liberal studies
Stephen Goode, chair of mathematics
Garrett Hart, chair of cinema and television arts
John Hoffman, chair of educational leadership
Kristi Kanel, chair of human services
JeeLoo Liu, chair of philosophy
Vivek Mande, chair of accounting, one-year term
Barbara Miller, chair of technical services, Pollak Library
Chean Chin Ngo, chair of mechanical engineering
Rosario Ordonez-Jasis, chair of literacy and reading education, fall semester
James Rodriguez, chair of Chicana and Chicano studies, one year
Eriko Self, chair of psychology
Sunil Thomas, chair of marketing
Natalie Tran, chair of secondary education
Eileen Walsh, chair of sociology
Jing Yang, chair of finance