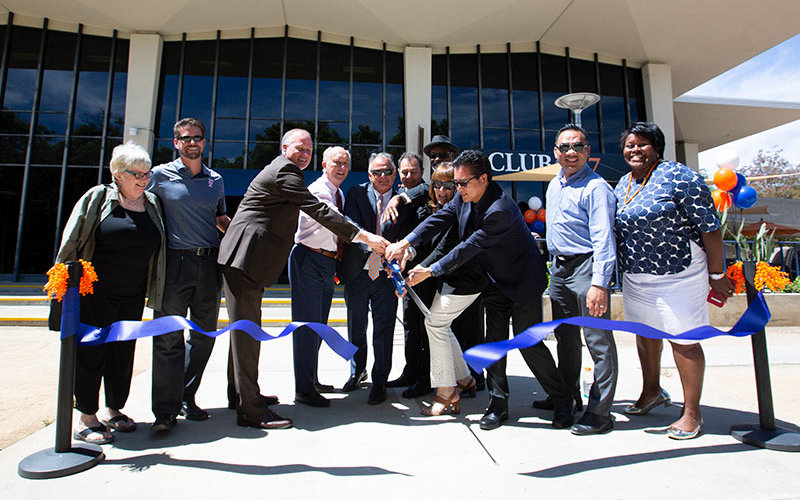 Cal State Fullerton faculty and staff members were curiously greeted with blue and orange plastic forks Aug. 30 — the first Academic Senate meeting of the 2018-19 academic year — in the Pollak Library's newly renovated Rotary Club of Fullerton Room.
Before explaining the significance of the forks, President Fram Virjee expressed his enthusiasm for the year ahead and invited the campus community to attend next week's University Convocation, Sept. 6 in the Titan Gymnasium.
"We're going to have a new format at Convocation, and I'm really excited about it," he said. "We're going to be celebrating the academic year to come, celebrating our new freshmen, celebrating our new faculty and celebrating you, our faculty and staff."
Virjee then shared that since joining the campus in January, he has met with many students, faculty and staff members during his walks around campus.
"What I often hear from faculty and staff when I ask them about what's missing is that they need more time together, they want to be able to collaborate together, and they want to sit and talk to each other," he said.
"It's time to recognize faculty and staff for everything that you do, day in and day out, for our university.
"Today, I'd like to share with you that we're opening Club 57, a place where the coffee is fresh, the conversation is inviting and the food is good," Virjee announced. "I understand it's been more than 20 years since we've had a faculty-staff lounge on campus. It's your space, so I encourage you to own it, use it, celebrate it and feel good about it."
Campus members were invited to a grand opening ceremony immediately following the Academic Senate meeting.
Located in Titan Shops, Room 109 — previously the Chicana and Chicano Resource Center and the Senate Chambers — Club 57 is open Monday-Friday and offers lunch Monday-Thursday. For more information, visit club57.fullerton.edu.