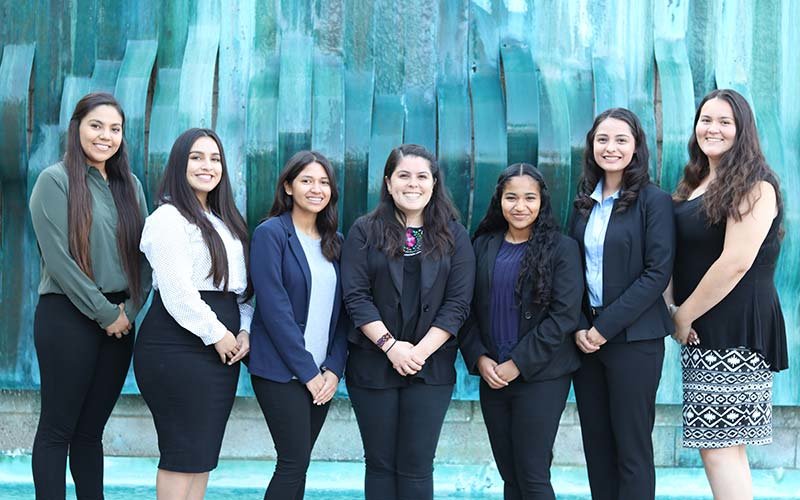 Studying abroad for the first time can be an intimidating experience, especially for college freshmen. Just ask the six sophomores in Cal State Fullerton's Global Titans Leadership Program, all of whom studied abroad for the first time last year and are now returning to encourage their peers to do the same.
"As a peer mentor, it is my responsibility to help freshmen have a memorable experience while studying abroad and serve as someone they can reach out to," said Karina Castorena, a second-year business administration major. "Many of them have never traveled alone and having someone there who's been through that similar experience sometimes makes it easier."
As a freshman, Castorena participated in a study abroad experience in Santo Domingo, Dominican Republic; in January, she will help guide students to La Paz, Mexico.
"Our Global Titan Leaders worked very hard over the summer to recruit freshmen to participate in a study abroad experience," said program coordinator Abigail Segura. "They tabled at orientations, hosted a family event and presented in 30 classes.
"All this has resulted in 33 first-year students committed to traveling either to La Paz, Mexico or Santo Domingo, Dominican Republic in January 2019, where Global Titan Leaders will serve as peer mentors and guide students in both the pre-departure process and the study abroad program."
In addition to equipping her with skills for the workforce and beyond, Castorena said being a Global Titan Leader has expanded her network by connecting her with college students, faculty members and international partners.
"I saw the Global Titans Leadership Program as a way to enhance my leadership ability and to continue traveling and learning about other communities," she explained. "The program has given me the chance to advance my public speaking skills by reaching out to campus students about study abroad opportunities."
For Adriana Fernandez, a sophomore kinesiology major, studying abroad in La Paz, Mexico during her first year of college helped her find the career path she is now working toward.
"During my study abroad trip in my freshman year, I enjoyed helping underserved communities, playing sports and learning about health care," she said. "I was also able to network and meet other freshmen who were in the same position I was in. This helped me a lot coming back from my trip because I was able to find a major and get more involved on campus."
Fernandez hopes to pursue a career as a pediatrician with a focus on helping underserved communities. She also hopes to complete a fellowship in sports medicine.