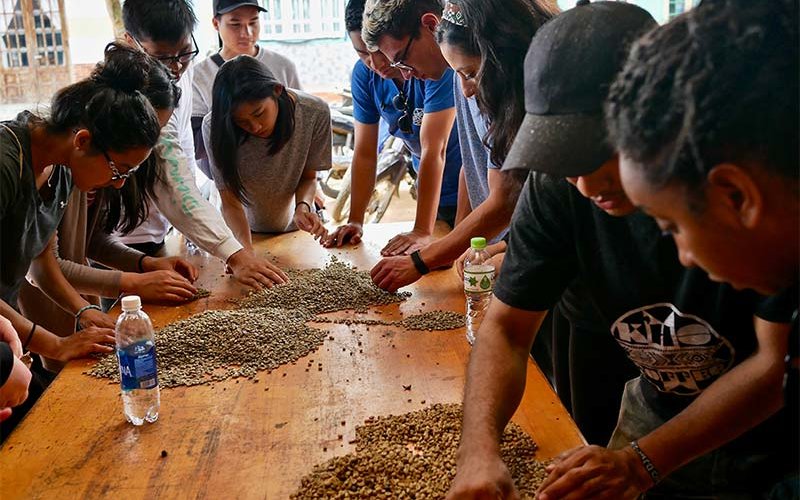 While sorting coffee cherries in Vietnam, the second largest producer of coffee in the world, 13 Cal State Fullerton students recently got a taste of the process from harvest to roast.
The visit to the K'Ho Coffee farming cooperative, located 10 kilometers north of Dalat, was part of a Jan. 1-19 study abroad trip led by Sarah Grant, an assistant professor of anthropology who has been researching the Southeast Asian coffee industry for more than a decade.
"The students walked away with a strong sense of how much labor it takes to produce one cup of coffee," said Grant. "It also showed them the complexity of coffee as a global and important domestic commodity, given the difficulties rural and coffee farmers face around volatile coffee markets, climate change, unpredictable rainy and dry seasons, infrastructural limitations and other external variables."
Jaeda Snow, an anthropology major, said that working on the K'Ho Coffee farm and learning about the coffee production process had a significant impact on her. "The experience reinforced what I knew about the challenges that small-scale farmers face in developing countries and made these challenges visible in a way that a textbook could not," she said.
Snow, who hopes to pursue a career that helps promote sustainable foodways and mitigate the effects of food insecurity worldwide, said the trip encouraged her to explore new research opportunities.
"I would like to focus my research on the effects of climate change on crop yield, which seemed to be a recurring theme throughout the trip," she said. "For instance, a warming planet with unpredictable weather will have a drastic impact on coffee production.
"I think many people, including myself, are detached from what we consume," she added. "This part of the program unpacked the many layers of what it means to be a coffee farmer doing business on a global market, and our group was brought face-to-face with the farmers whose livelihoods depend on a successful coffee harvest."
The K'Ho Coffee farm service-learning project, sponsored by CSUF's Center for Internships and Community Engagement, was one of several agricultural initiatives the students participated in. Students also spent an afternoon visiting a dragon fruit farm along the coast, where they learned about the challenges and successes of producing this valuable commodity.
For art major William Vo, one of the most impactful moments of the trip was visiting the Center for Cooperative Development in Ho Chi Minh City, where students learned about agricultural cooperatives that were implemented to help stabilize the market and make sure farmers are not being undercut by corporate middlemen.
The trip also deepened Vo's desire to pursue a career in photography and inspired him to return to Vietnam one day to make a series of photographs using the wet plate collodion method, a mid-19th century photographic technology.
"I was compelled by the traditional values that the Vietnamese people embraced and I want to reflect that using an older method of photography," said Vo. "Though the process is labor intensive and requires tremendous attention to detail, I feel the creation of the image through this process will represent the difficulty and passion these Vietnamese farmers have for their craft."
For information about upcoming study abroad programs like "Contemporary Vietnam: Culture, Commodities, Change," visit the Office of Study Abroad website.