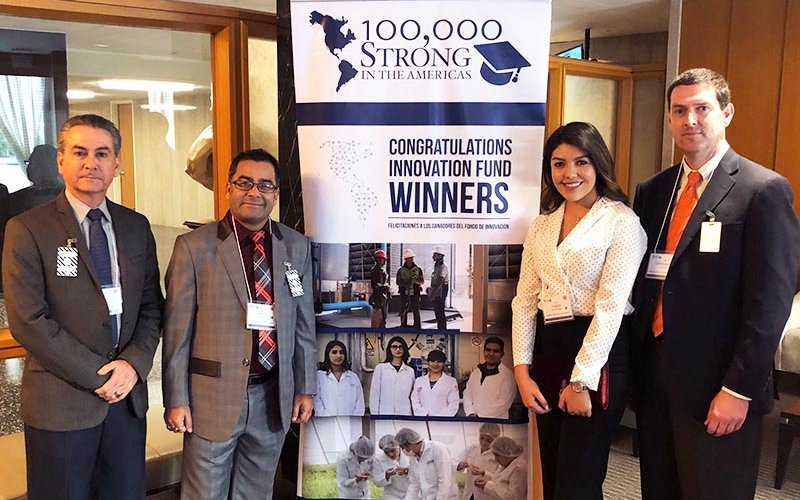 A new "100,000 Strong in the Americas" Innovation Fund grant awarded to Cal State Fullerton gives engineering students the opportunity to study abroad in Mexico and gain technical, linguistic and intercultural skills critical for today's global workforce.
The nearly $25,000 grant award from the ExxonMobil-sponsored Innovation Fund is supporting a new student exchange program between CSUF and Centro de Enseñanza Técnica Y Superior Universidad (CETYS) in Ensenada, Mexico.
Binod Tiwari, professor of civil and environmental engineering, is directing the "CSUF-CETYS: Bilateral Student Mobility for Project-Based Curricular Study Abroad Program," offered through Extension and International Programs. The university is contributing matching funds of nearly $31,000.
Tiwari and Christopher M. Swarat, interim associate vice president for Extension and International Programs, attended a March 19 reception at the U.S. Department of State in Washington, D.C. for grant recipients, where the 2019 grants were announced.
"Cal State Fullerton is committed to supporting high-impact and immersive experiences for our students," Swarat said. "This grant, through a strategic partnership with CETYS Universidad, will foster an innovative curricular study abroad opportunity for engineering students — a discipline that traditionally shows significantly low student mobility."
The program creates a new collaboration with CETYS, focusing on engineering disciplines, Tiwari said. The grant program was developed based on a weeklong study abroad program to CETYS, which Tiwari began during the 2017 winter session.
"Through this effort, students will participate in well-designed, collaborative and project-based learning experiences," said Tiwari, the university's 2017 Outstanding Professor. "Such experiences will have a positive impact on students' academic and professional development, particularly the abilities of participants to successfully work in increasingly diverse and international platforms on civil and mechanical engineering projects."
This is the second grant CSUF has received from the Innovation Fund, a public-private sector collaboration between the U.S. Department of State,  Partners of the Americas and NAFSA: Association of International Educators, working together since 2013 to support this education initiative for the Americas. The first grant awarded in 2015 supported a STEM study abroad in Brazil in 2016 for engineering majors, led by Tiwari. Yuliana Carrillo, who earned her bachelor's degree in civil engineering in January, was invited to attend the reception and spoke about her study abroad experience in Brazil.
Civil, computer engineering, computer science, electrical and mechanical engineering majors can apply for the program beginning in April, with a total of 20 students selected — 10 students from each institution. Students from both institutions will participate in a four-week course in July, which includes taking the "Engineering Economics and Professionalism" course at CSUF, followed by one week of study at CETYS. CSUF students also will travel to CETYS during the 2020 winter session to attend lectures, and participate and present engineering projects at an international research symposium.
The grant affords the university the opportunity not only to provide students an immersion in a different global community, but also brings internationalization efforts home through the participation of CETYS students studying at CSUF, Swarat noted.
"By doing so, we are able to broaden the impact of this program beyond the one-way mobility of traditional programs," Swarat continued. "By strengthening an already strong foundation of strategic partnerships in Latin America, we are ensuring these opportunities will continue to be available to our students for a long time to come."