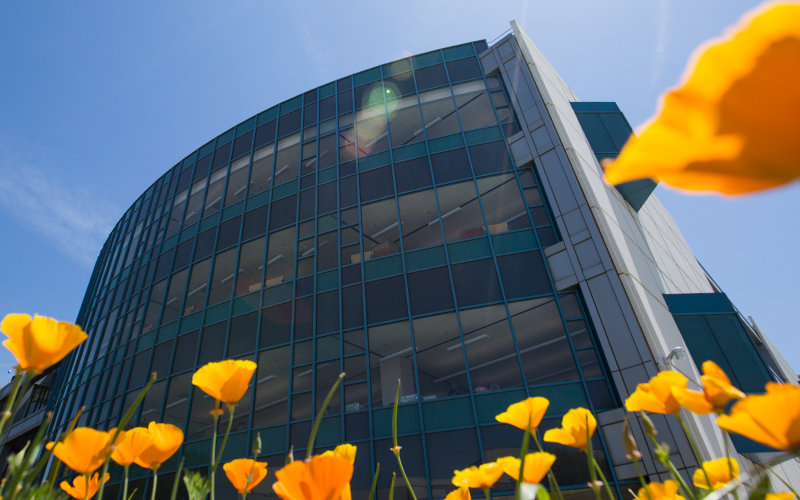 Nikki Silvestri, co-founder and CEO of Silvestri Strategies, an Oakland-based design and management firm that develops climate solutions, food systems and economic development initiatives, is the keynote speaker for Cal State Fullerton's May 6 Sustainability Symposium "Campus as a Living Lab."
The 9 a.m. – 3 p.m. free, public program will feature presentations and posters on how to use the physical or social environments of the University. The Campus as a Living Lab initiative follows the University and the CSU system's commitment to sustainability and increasing students' awareness of sustainable issues, practices and career opportunities.
"Our goal is to share best practices that can be used at any educational institution," said Tamara Wallace '08, '13 (B.A. geography, M.A. geography), sustainability projects coordinator and a member of the symposium planning committee. "We are very excited to see such a diverse collection of presentations, including recent faculty-facilities partnered projects, and look forward to hearing ideas for more potential collaborations."
Among the presenters will be 12 campus faculty members from six colleges sharing the high-impact practices used in the classroom and often utilizing campus properties, including
studies into how campus trees are surviving the current drought ;
conducting waste audits and lighting-level inventories for energy efficiency and occupant safety;
using GPS technology to identify and cap campus irrigation for water conservation; and
taking core samples of sediment on a dry lake bed to study the effects of climate change.
 
Student participants in a sustainability contest will present proposals for a project, program or initiative for the campus. Previous proposals included a campaign to convince students, faculty and staff members to stop purchasing water in plastic bottles and use reusable containers. The effort grew to include the installation of water bottle refill stations throughout campus.
In addition to faculty and student presentations, campus administrators will be discussing sustainability efforts in technology and facilities management. The campus is known for such efforts, including energy efficient lighting and solar paneling, as well as water conservation efforts, green cleaning supplies and recycling efforts.
CSUF also is host of this summer's 15th annual California Higher Education Sustainability Conference, an opportunity for campuses from the California State University, University of California and California Community Colleges systems, as well as private institutions, to share best practices and learn from one another in the fields of campus economic responsibility, social equity and environmental sustainability.
A schedule for the May 6 program is available online.
The symposium will be held in the Titan Theatre and Ontiveros Room of the Titan Student Union, followed by a networking reception at the Golleher Alumni House. RSVP for reception online.
Parking for campus visitors is $2 per hour or $8 for a daily permit. Details available on the Parking and Transportation website.
Media Contact:
Pamela McLaren, 657-278-4852