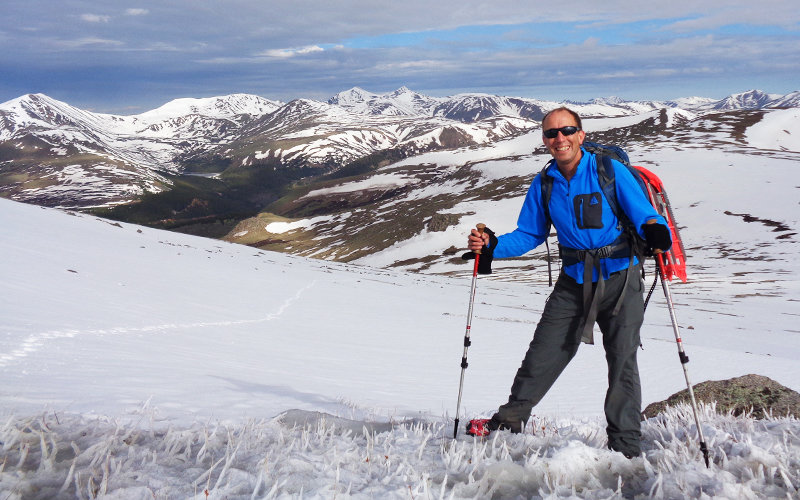 Cal State Fullerton mathematics professor Scott Annin has two passions: math and mountain climbing.
Through his teaching, the University's 2014-15 Outstanding Professor hopes to inspire and guide his students on journeys of mathematical discovery — instilling that hard work and perseverance is no different than scaling to the peak of the tallest mountain.
Annin will share, and draw an analogy, of his experiences in the classroom and in nature during his Outstanding Professor Lecture, "Mountaintop Moments in Mathematics," at 10 a.m. Tuesday, April 26, in Room 130 of Pollak Library. A 9:15 a.m. reception will be held prior to his public lecture.
Annin, who received the award last spring, has climbed hundreds of mountains in his lifetime. He also has led people on challenging adventures in the hopes to inspire them with amazing scenery and perspective that they have never seen before.
"Helping students understand mathematics is a similar endeavor," said Annin, who has taught at CSUF since 2002 after earning his doctorate from UC Berkeley. "Many students find mathematics challenging and often it takes hard work from both students and instructors to overcome these challenges. Forging new ground in mathematical research also requires mathematicians and scholars to work hard and find inspiration to reach new heights and discover new results."
In his talk, Annin will describe some of the research he has worked on with his students, as well as some of his recent projects that aim to give future students new tools to "overcome obstacles and discover new beauty in mathematics."
Annin's mountaineering and climbing launched into high gear in summer 2007 when he became a hike master for the YMCA of the Rockies in Colorado's Rocky Mountain National Park. His current goal is to climb all 58 mountains in Colorado that are more than 14,000 feet tall. So far, Annin's climbed 47 of them, including the six most-difficult rated peaks. The tallest mountain he's climbed is Mount Whitney, in the Sierra Nevada, at 14,505 feet.
For his teaching and research, Annin has received numerous awards and accolades, including the University's 2008 Carol Barnes Excellence in Teaching Award and a national teaching award from the Mathematical Association of America. He has published numerous articles and has been involved in several grant projects, including co-directing a $600,000 National Science Foundation grant to help underrepresented math majors persist in obtaining a graduate degree in mathematics.
Media Contact:
Debra Cano Ramos, 657-278-4027