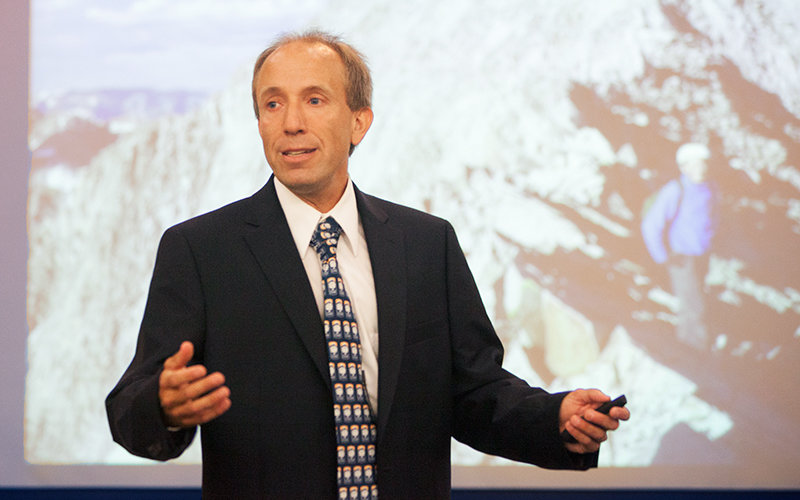 Cal State Fullerton's Outstanding Professor Scott Annin has had plenty of "aha moments" — something a student and teacher share when learning and discovery happen. He's also had these special moments while standing on a Colorado mountaintop taking in the majestic view at 14,259 feet.
In his "Mountaintop Moments in Mathematics" Outstanding Professor Lecture today, Annin talked about his inspiring times in the classroom and in the mountains. But Annin reminded the audience of students, alumni, faculty, staff and community members: "The journey is more important than the destination. This happens in math all the time. The joy is in the process of discovering the answer."
President Mildred García introduced the 2015 Outstanding Professor, calling him a "superstar professor" because of his passion for his work and whose "achievements are endless." She added that Annin is "a driving force" to help Cal State Fullerton become the public, model comprehensive university of the nation.
The mathematics professor and avid mountain hiker told the crowd inside the packed Rotary Club of Fullerton Room that these so-called "aha or mountaintop moments" don't come easy. But with hard work, perseverance and passion, students — as well as colleagues — can create their own "aha moments."
Annin began his lecture in a navy suit and tie, but later put on hiking attire over his suit to drive home the parallels of his passions, in which he mused he leads a double life. The educator led the audience to new heights by sharing his own journey of becoming a math professor and mentor to tales of some of the best mountain treks he's experienced in his lifetime.
Whether helping students understand math or leading a group of summer hikers, both require special skills, exceptional endurance and strong nerves to conquer, he explained.
Annin shared how in his 14 years of teaching, he creates "aha moments" to help his students overcome mathematical challenges and find inspiration to reach new vistas. First, let students see the "human side of you" and be "relatable," he said. Next, encourage students to join clubs, conduct research projects, compete and present their work at conferences to help them overcome obstacles and discover new mathematical beauty.
Annin stressed how helping students understand mathematics is similar to guiding others on daunting mountain-hiking adventures. "You have to have soft-edge skills — things like developing trust, communicating with sensitivity, having genuine care and inspiration. You want to help those students get to the top of the mountain."
To be an outstanding teacher and mentor, the award-winning professor said that students must have "good projects" that give them the tools and motivation to make the journey — and beyond.
"The best projects always lead to new projects," he said, adding that similarly, his hiking ventures led to a desire to climb even taller mountains. He's currently trying to complete all 58 of Colorado's mountains taller than 14,000 feet, and so far, he's conquered 47 of them, to which the audience gave him a round of applause.
"I'm almost there," he grinned.
Annin closed his lecture by giving audience members three takeaways: "Do things that you are passionate about; take journeys beyond your comfort zone; and anyone, with proper motivation and support, can find success in and out of the classroom."
He dedicated his talk to his parents, Juli and Art Annin, who have joined him on dozens of hikes, including some of Colorado's tallest summits.
"They're the most inspiring people I have ever known."