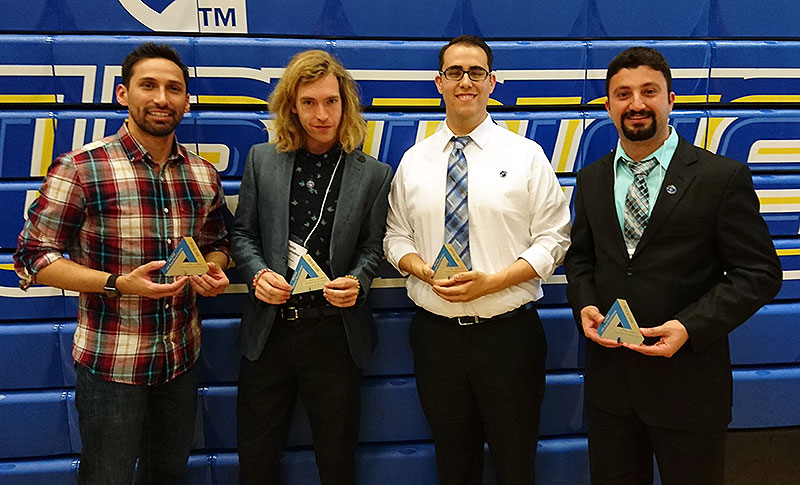 Four Cal State Fullerton students from across disciplines were top winners at the 30th annual California State University Student Research Competition at CSU Bakersfield. Titans won three first-place awards and one second-place prize.
The competition drew 221 students from throughout the 23 campuses of the CSU system, including 10 CSUF finalists. The competition's purpose is to promote excellence in undergraduate and graduate scholarly research and creative activity by recognizing outstanding student accomplishments.
First-place winners in their respective categories and research projects are:
Joris Hoogsteder of Santa Ana, a graduate student in the master of music program studying composition, in the humanities and letters category, for his work titled "Musical Innovation in Early Video Games: Super Mario Bros." He investigated the use of music and musical composition in the early video game "Super Mario Bros." His faculty mentor is John Koegel, professor of music.
Robert Ontiveros of Brea, a senior majoring in biological science, in the biological and agricultural sciences category, for his research on understanding a certain protein to better treat diseases such as cancer and Alzheimer's disease. He is a scholar in the Maximizing Access to Research Careers (MARC) and Ronald E. McNair programs. His faculty mentor is Niroshika Keppetipola, assistant professor of chemistry and biochemistry.
Shawn Ricardo of Fullerton, a graduate student studying computer science, in the engineering and computer sciences category, for his research on developing hardware and software to enable inexpensive laser-based distance sensors for mobile robots to detect obstacles and create a path around them. The system can be used for search-and-rescue applications, exploring caves and steering aerial drones. His faculty mentor is Doina Bein, with faculty adviser Anand Panangadan, both assistant professors of computer science.
Graduate student Hussein Al-Barazanchi of Fullerton, a computer science major, won second place in the engineering and computer sciences category, for his research to develop a software system that automates the process of categorizing plankton images by using a state-of-the-art machine learning algorithm to achieve high accuracy and reliability. The system can be used for detecting changes in the marine ecosystem, such as identifying oxygen minimum zones in the ocean and facilitating research on environmental issues. His faculty mentors are Abhishek Verma, assistant professor of computer science, and Shawn Wang, professor of computer science.
Nathalie Carrick, associate professor of child and adolescent studies, and Terri Patchen, professor of elementary and bilingual education, both Student Creative Activities and Research faculty fellows, mentored and prepared students for the April 29-30 CSU competition.