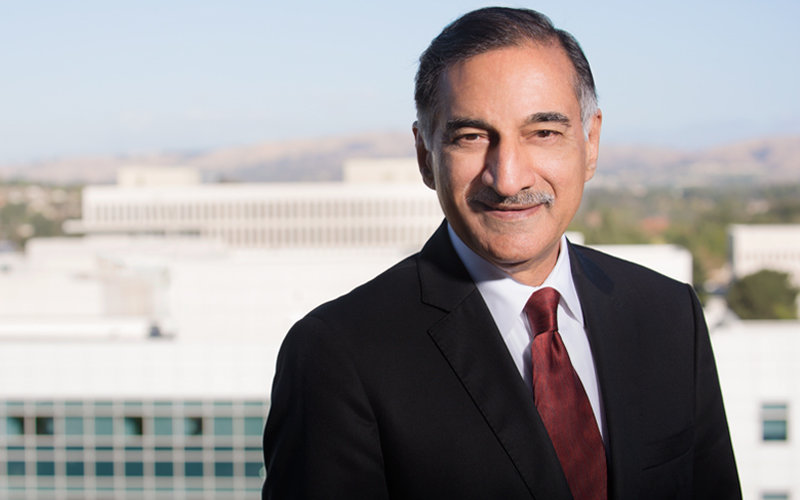 Anil Puri, dean of Cal State Fullerton's Mihaylo College of Business and Economics, has been appointed interim provost and vice president for academic affairs, effective July 25. He will continue to serve in the position through a successful national search for a permanent provost and vice president.
Puri has served as dean of the college of business and economics since April 1999. As dean, he led a six-year, $50 million capital campaign that resulted in the construction of Mihaylo Hall, as well as the naming of the college and the addition of several endowments.
He joined Cal State Fullerton in 1977 and has served as a member of the Academic Senate, chair and professor of economics, and interim associate vice president for Academic Programs. Puri also was a member of the University's Strategic Planning Committee, helping to shape the campus strategic plan, as well as universitywide groups on advisement, graduation rates and closing the achievement gap, and re-envisioning the Irvine Campus.
"An educator foremost, Dr. Puri has shown an ability to recruit, retain and work collaboratively with a diverse and high-quality faculty as evidenced by the fact that over half of the tenure track faculty members in the Mihaylo College of Business and Economics were hired during his tenure as dean," said President Mildred García in announcing his appointment as interim provost. "Further, he's led the college in developing several collaborative programs with faculty and staff across campus," including the Dan Black Program in Physics and Business with the College of Natural Sciences and Mathematics and a five-year undergraduate Engineering and MBA program with the College of Engineering and Computer Science.
The economist also is the longtime director of the James and Jeanette Woods Center for Economic Analysis and Forecasting, and has presented biannual economic forecasts for Orange County and the nation for more than 20 years.
He holds a master's degree and doctorate in economics from the University of Minnesota.