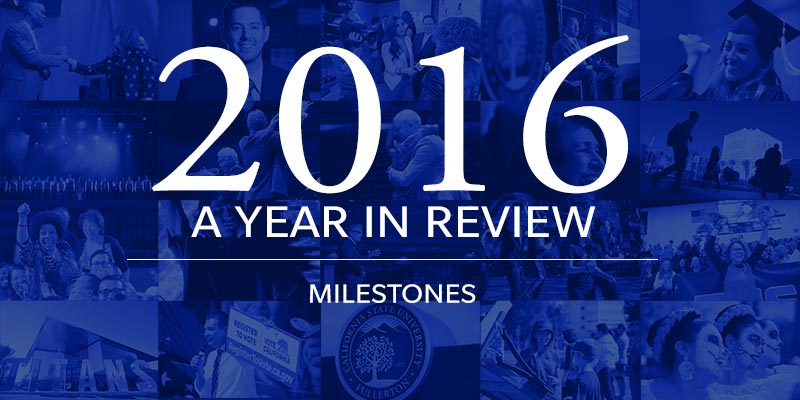 Titans saw 2016 as a year of high honors, high achievement and making waves — or helping to confirm their existence in space.
There was the not-so-small matter of helping to confirm Albert Einstein's prediction. A team of Cal State Fullerton scientists and student researchers were key contributors to the first direct detection of gravitational waves — and, three months later, to a second direct detection of gravitational waves from a pair of black holes that collided approximately 1.4 billion years ago. Alumnus Dan Black is funding a three-year naming gift for the creation of the Dan Black Director of the Gravitational-Wave Physics and Astronomy Center, while a National Science Foundation grant funds a project to recruit and expand the number of underrepresented students majoring in gravitational-wave science, as well as provide a pathway to enter the doctoral program in gravitational-wave astrophysics at Syracuse University.
And that was just one of a slew of distinctions for Cal State Fullerton. The Class of 2016 set a University record for the number of degrees awarded in a single year — 10,006, while enrollment also reached a new high. With 40,235 students enrolled in fall 2016, CSUF posted the highest enrollment in the 23-campus CSU.
As a major indication of Cal State Fullerton's growth as an institution on the national stage, U.S. News & World Report heralded the University as a top "national university." The change was largely based on the University's elevation to"R-3" status by the Carnegie Classification of Institutions of Higher Education. The designation recognizes the University's evolution from a master's-level comprehensive institution to one that awards doctorates.
Rankings and Recognition
It was not the only time in 2016 that CSUF was ranked by U.S. News & World Report. In January, the University's online master's degree programs in business, engineering and education were ranked among the nation's best in their respective fields: business placed 11th in the magazine's "Best Online Programs," while engineering took 16th and education, 34th.
Two months later, two campus nursing programs  were recognized in U.S. News & World Report's 2017 rankings of graduate schools. The master's program in nursing-nurse anesthetist concentration ranked fourth and the master's program in nursing-women's health care came in 20th.
CSUF remained No. 1 in California and moved to No. 2 in the nation for awarding bachelor's degrees to Hispanics, according to the Aug. 25 issue of Diverse: Issues in Higher Education. The University also is No. 6 in the nation for bachelor's degrees awarded to underrepresented students.
Six academic programs  were included in the Hispanic Outlook in Higher Education's list of top 10 national programs awarding degrees to Hispanic students. The campus was recognized as No. 1 for degrees in communications-journalism and public administration and social work, among other distinctions.
The University was honored with the 2016 Excellence and Innovation Award for International Education from the American Association of State Colleges and Universities in October. The association named campus program "Access to and Advocacy for Study Abroad at a Hispanic-Serving Institution" an exemplary model "that can set the standard for other institutions and help advance practices in the field."
Cal State Fullerton's Enhancing Postbaccalaureate Opportunities at Cal State Fullerton for Hispanic Students (EPOCHS) Program won the "Examples of Excelencia" award by Excelencia in Education!, a national initiative to systematically identify and promote evidence-based programs and departments effectively boosting Latino enrollment, performance and education.
Cal State Fullerton's "Strengthening Transfer Education & Matriculation in STEM" was one of 12 nationwide programs selected as an example of a "cutting-edge best practice" by the Alliance of Hispanic Serving Institution Educators.
The University's Information Technology Division was honored in April by the Association for College and University Technology Advancement for its Shared Cloud Services Initiative.
New and Expanded Programs
A new cross-disciplinary food studies minor, created with existing courses from departments within the colleges of Humanities and Social Sciences, Health and Human Development, and Natural Sciences and Mathematics, was added to the list of minors during the fall semester.
Cal State Fullerton also launched a new program, "World Language: English Language Development," to prepare teachers to instruct English-language learners in California's diverse K-12 classrooms, while a gift from a local patron of the arts is helping expand the College of the Arts' glass program with a new state-of-the-art studio, an enhanced curriculum and guest artists.
The College of Engineering and Computer Science is developing an undergraduate biomedical engineering program with a medical device emphasis, thanks to a grant from the W. M. Keck Foundation. The emphasis will prepare students for careers as practicing engineers in the fields of biomedical engineering and assistive and rehabilitation technology.
Partnerships and Initiatives
In January, Cal State Fullerton launched the Center for Healthy Neighborhoods to help alleviate education and health disparities in underserved and vulnerable neighborhoods in Orange County.
The University also joined a statewide effort to expand college access to formerly incarcerated individuals. It is one of seven CSU campuses establishing programs modeled after San Francisco State's Project Rebound.
Cal State Fullerton also initiated a Food and Housing Security Task Force, joining a Cal State University systemwide effort to aid students who live in unstable housing conditions or lack regular access to food.
In April, the University celebrated the opening of the Roy Lopez Army ROTC Obstacle Course. Army ROTC (Reserve Officer Training Corps) cadets are using the military-grade obstacle course for physical training and conditioning, team building and leadership.
In the fall, the College of Communications partnered with Univision to open the Cal State Fullerton Univision Bureau on campus. The affiliation continues efforts by CSUF's Latino Communications Initiative to boost students' access to success, connecting bilingual students with professional mentors, internship opportunities and the network's news feed for use in student-produced news programs on "OC News" and "Al Día."
Past and present members of Cal State Fullerton's Applied Securities Analysis Program — many whose careers stemmed from their experience in the student investment management program — joined campus officials and donor Jeffrey Van Harte in a December celebration for the opening of the Titan Capital Management Center.
There was an universitywide audience for the completion of a 27,000-square-foot expansion of the Titan Student Union in October. The two-year project added natural lighting through skylights, a large atrium area traversing a grand staircase and expanded areas of students to meet, study and relax.
As further evidence of the University's efforts to help students succeed, the College of the Arts, the College of Humanities and Social Sciences and the Office of Graduate Studies  each opened a Student Success Center to provide support and advising services to increase graduation rates, reduce the time to earn a degree and narrow the achievement gap among underrepresented students. Through these and other efforts, Cal State Fullerton's graduation rate for first-time freshmen rose to 63 percent in 2016 — the highest in the University's history. CSUF also eliminated the achievement gap for transfer students — also a first for the University.
As part of its commitment to diversity, inclusion and equality, Cal State Fullerton created the Titans Together website — a one-stop information center that directly supports and builds upon the University's achievements in decreasing its achievement gap, leveraging its diversity to prepare all students for a global society, and increasing faculty and staff diversity. Online resources include University policies on discrimination and harassment, diversity workshops and campus maps of official safe-space areas.
And to stay connected to the University in 2017, Cal State Fullerton developed three apps — one for parents and families, another for friends and a third for alumni — offering campus news and event information, directions, giving opportunities, tours, dining options and more. They're available for download in the Apple and Google app stores.