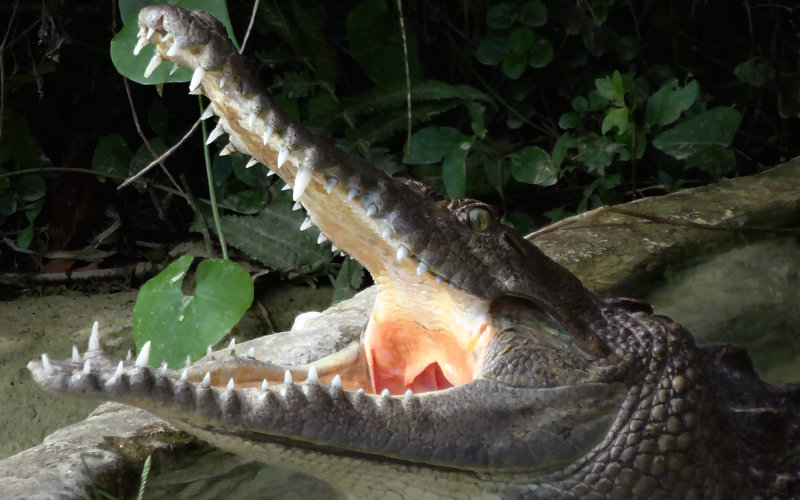 In Orange County's ancient past, crocodiles lived here and existed longer in this area than anywhere else in California, a new Cal State Fullerton fossil study reveals.
The student-led fossil study of Orange County and California, which included examining teeth of extinct crocodiles and horses by geology graduate Michelle Barboza and fellow researchers, discovered that the large aquatic reptiles lived in California for almost 10 million years after what previous research has shown.
"Crocodiles aren't well-studied in California, and before this study, scientists thought they went extinct 16 million years ago," said Barboza. "Our study shows this hidden history of crocs living in Orange County and in California up until 6 million years ago."
Barboza is the lead author of the study, which outlines the discovery extending the presence and history of crocodiles in California. She conducted the collaborative study for her undergraduate thesis, graduated in August with a bachelor's degree in geology, and is now a graduate student at the University of Florida studying vertebrate paleontology.
The fossils studied are from collections at the John D. Cooper Archaeological and Paleontological Center — a partnership between CSUF and OC Parks — the Ralph B. Clark Regional Park Interpretive Center in Buena Park, Natural History Museum of Los Angeles and San Diego Natural History Museum.
The study was published today in PaleoBios, an open-access, peer-reviewed journal at UC Berkeley. Co-authors are James F. Parham, assistant professor of geological sciences, who directed the study; undergraduate geology major Brian Kussman; geology graduate student Gabriel-Philip Santos; and Jorge Velez-Juarbe of the Natural History Museum of Los Angeles.
The researchers initially had set out to establish the age — using fossil teeth of the extinct horse — of a prominent geological rock layer known as the Oso Member from the Capistrano Formation. This formation is found underneath many of the roads, homes and business of southern Orange County, mostly near Lake Forest and Mission Viejo, noted Kussman.
"This rock unit formed from erosion of the Santa Ana Mountains and is made of sandstone and siltstone deposited when much of Southern California was covered by shallow seas," Kussman explained.
The importance of establishing the age of the Oso Member allows scientists to compare it to other fossil sites in Southern California, noted Parham, the Cooper Center's faculty curator of paleontology.
"As a result, we can learn when and where different species lived and how that changes through time," Parham said.
Barboza pointed out that the rock formation is filled with fossils of animals that lived both in the ocean and on land in Orange County over 5 million years ago, but had not been described until this study, which also identifies the wealth of fauna in the county.
"The significance of this study is it gives us a picture of what Orange County used to look like millions of years ago," said Barboza, who is pursuing a career in paleontology and science education. "Rhinos, elephant-like creatures, called gomphotheres, horses and crocodiles were the animals that lived here."
Before graduating from CSUF, Barboza was a research scholar in the California State University Louis Stokes Alliance for Minority Participation program, a paleontology summer intern on the Panama Canal Project through the University of Florida and the Smithsonian Tropical Research Institute, and conducted summer research in Argentina.