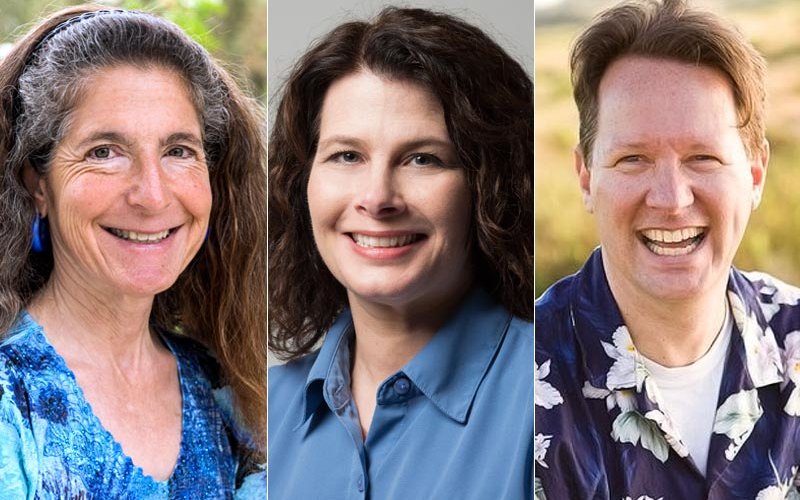 Three Cal State Fullerton faculty members recently shared how they turned their passion for the Walt Disney Co. into academic and professional work at a Feb. 22 panel discussion for the University Honors Program.
"One of the core goals of our program is interdisciplinary learning, so how fun to explore Disney from artistic, historic, communications and entertainment studies perspectives," said Sandra Pérez, director of the University Honors Program. "I hope our students see how the things that you love can be connected to research and to professional endeavors."
Deconstructing Disney
Like many people, Andi Stein fell in love with Disney at an early age. But she was first introduced to Disney as an academic subject when she took a class called "Understanding Disney" as a graduate student at the University of Oregon.
After completing her doctorate, Stein accepted a job teaching communications and entertainment and tourism studies at CSUF.
The professor of communications' research has taken her to all 12 Disney theme parks, where she continues to interview experts and fans from around the world.
"One of the most exciting things I ever did was attend the opening day of Shanghai Disneyland last summer," she said. "It was so interesting to meet people from different countries and hear firsthand why they love Disney."
Stein is the author of several books, including "Why We Love Disney: The Power of the Disney Brand." She also developed a graduate-level class called "Deconstructing Disney," which examines the influence that Walt Disney and the Walt Disney Co. have had on entertainment and communication.
"We have really great discussions in the classroom between dedicated Disney fans and people who look at Disney with a very critical lens," said Stein. "My job as a teacher is to facilitate those discussions."
Skipper Stories
David Marley '98 (M.A. history), history and honors program lecturer, used the skills he learned during his master's program at CSUF to write the first oral history of a specific Disney attraction, "Skipper Stories: True Tales From Disneyland's Jungle Cruise."
"I never thought it was something you could do as academic work — study Disney — otherwise I would have started on it a lot earlier," he said.
Marley, who became obsessed with the Jungle Cruise at the age of 7, fulfilled one of his lifelong dreams by working as a skipper and trainer in between completing his doctorate in history from George Washington University.
His research has connected him with past and present Jungle Cruise skippers — each with uniquely entertaining stories. He also is a member of the Hyperion Historical Alliance, a group of scholars who work with the Walt Disney Co.
"Cal State Fullerton has a fantastic oral history program," said Marley. "It's where I learned how to interview people and transcribe their stories."
Marley currently is working on two more volumes of "Skipper Stories" and will present a March 12 talk on "The Plants of Disneyland" at the Fullerton Arboretum.
Magic in the Making
When Wendy Grieb '12 (M.F.A. art-illustration) began working as an animation storyboard artist for Walt Disney TV Animation, she had to quickly make the transition from hand-drawn to digital animation.
During her 16 years as a Disney artist, Grieb worked on such shows as "Phineas and Ferb," "Lilo and Stitch," "The Emperor's New School" and "Elena of Avalor." She received a 2004 Annie Award from the International Animated Film Association (ASIFA: Association Internationale du Film d'Animation) for her work on the TV series "Dave the Barbarian."
As an assistant professor of art at CSUF, Grieb shares her real-world experience and passion for animation, storyboarding and character design with students.
"If you're an artist, you should be drawing all the time — and not just drawing out of your head, but drawing from life," said Grieb. "When you know how things are put together in real life, you will draw your cartoons much better.
"Also, if you're an artist out here in the heart of the entertainment industry, you have it great," she said. "Take advantage of it."