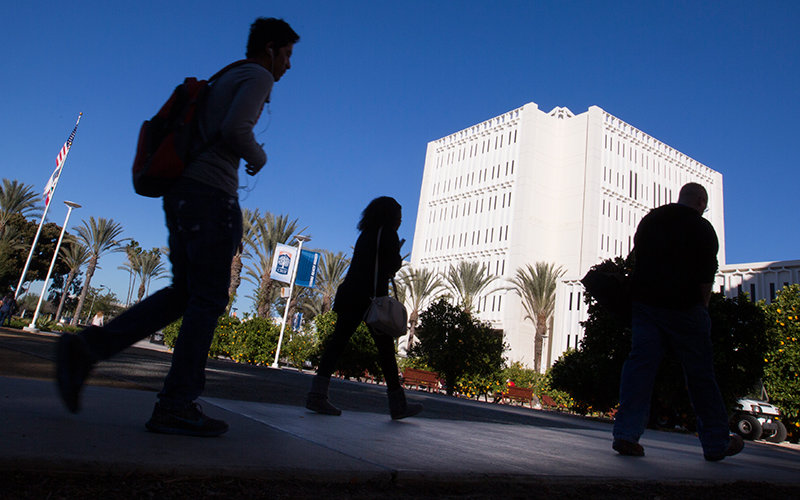 As Cal State Fullerton moved up the ranks as a top "national university," so has demand for admission as the region's high school graduates and community college transfer students make their university selections. For fall 2017, CSUF received nearly 70,000 applications for admission from prospective students — an all-time high.
The University received 45,394 applications for fall from entering freshmen and 24,545 applications from community college and other upper-division transfer students — for a total of 69,939 applications, a nearly 3 percent increase over fall 2016, according to the Office of Admissions. Last fall, CSUF had a record enrollment of 40,235 students, the highest enrollment in the 23-campus California State University system.
The demand for the high-quality education offered at CSUF continues to grow, said Darren L. Bush, interim associate vice president for student affairs, who oversees admissions.
"We hear a lot of positive feedback about our wide range of degree programs and our welcoming, and caring environment. We have a huge demand in Orange County, and we're seeing a steady increase in applications, including from prospective students in Riverside and Los Angeles counties, as well as other areas of California, so we know that Cal State Fullerton is in high demand."
A number of factors contribute to CSUF's desirability among prospective students, including top-sought programs in business, nursing and kinesiology. Moreover, CSUF offers a depth and breadth of educational programs with tuition fees well below the national average — while being recognized as a top institution in the West for students graduating with the least debt. Last fall's U.S. News & World Report ranking also heralded Cal State Fullerton as a top "national university." The campus previously had been included in the much narrower "regional universities" category.
CSUF President Mildred García has noted that over the past four years, the University has seen the achievement gap — or "opportunity gap" between underrepresented students and their Caucasian peers — eliminated for transfer students and cut in half for entering freshmen. A 24 percent improvement in six-year graduation rates also has been achieved. For the first time in CSUF's history, more than 10,000 bachelor's, master's and doctoral degrees were awarded to the 2016 graduating class.
Bush also pointed out that more incoming freshmen are prepared for the rigors of college, which is contributing to the increase in applications. CSU and CSUF initiatives and programs have boosted the college readiness of high school students entering the CSU. In fall 2016, for example, 81.46 percent of the 4,426 freshmen entering CSUF were ready for college-level coursework in math and English without the need for remediation — compared to nearly 49 percent in 2009.
As CSUF, which offers a diverse, inclusive environment, continues to work toward becoming the model public comprehensive university of the nation, García declared at the start of this academic year: "Education has the transformative power to help students achieve their dreams. Let's keep reaching higher."