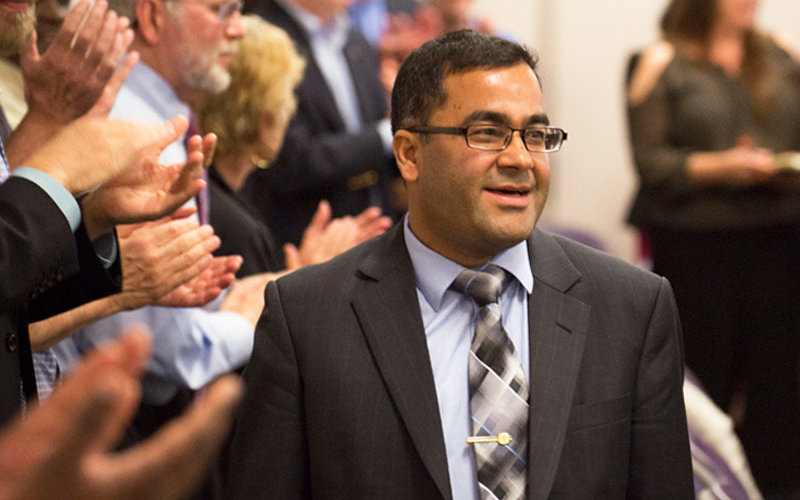 Civil engineer Binod Tiwari is described as a "remarkable educator, trusted mentor to students and faculty, and a respected colleague and friend." His accomplishments in research and in teaching cannot be captured by words on paper, his colleagues point out.
For his array of achievements as an "inspiring, caring and approachable" teacher, his scholarly contributions in geotechnical engineering, his passion for student involvement in research and never-ending support and leadership to his profession, Tiwari has been selected as this year's Outstanding Professor. This award is Cal State Fullerton's highest faculty honor.
President Mildred García announced Tiwari's selection for the award at today's Academic Senate meeting, which was followed by a standing ovation from faculty and staff members.
Since joining Cal State Fullerton in 2006, Tiwari was hailed by García as someone who continually strives to reach higher to help the University's diverse students — from orientation to graduation and beyond. "This professor has reached higher in everything he has done. … Yet of all his accolades for reaching higher, he's most proud of helping students do the same, both in their studies and their profession."
Taken aback by the honor, the professor of civil and environmental engineering stood before his colleagues and declared that he was at a loss for words. He thanked his colleagues from across colleges and disciplines for supporting his nomination.
"Dr. Tiwari has always been a highly energetic and dynamic faculty member who not only excels in teaching, but also has been equally exceptional in research and professional service at the University and to professional societies," said Susan Barua, interim dean of the College of Engineering and Computer Science. "Dr. Tiwari is highly deserving of this honor."
Mathematics professor Scott Annin, the 2015 Outstanding Professor, called Tiwari a "champion" when it comes to leading students in research and in the classroom: "He has mentored a whole host of them, and he has bolstered his students' futures through the papers, presentations and grants that he has involved them in."
His former student, and now colleague, Beena Ajmera, assistant professor of civil and environmental engineering, noted that her mentor has a desire to see students succeed and goes the extra mile to make it happen.
"He is constantly looking for ways to showcase his students and help them build a bright and successful future," Ajmera said.
Many current and former students also cast their support for his nomination, including alumnus Michael C. Hillman '08 (B.S. civil engineering).
"I believe my success in life is a testament of the ability of great teachers like Dr. Tiwari to make a substantial positive impact on students' lives," said Hillman, an assistant professor of environmental engineering at Pennsylvania State University.
Tiwari has secured nearly $1.6 million in research grants from such agencies as the National Science Foundation and the U.S. Department of Education. Tiwari's research focuses on soil and rock slope stability, natural disaster mitigation and geotechnical earthquake engineering. The researcher has a global reputation, having conducted research in Japan and Nepal, and serves as a board member of the International Consortium on Landslides.
Over the last decade, Tiwari has mentored nearly 200 students, many of whom have gone on to graduate school, with six earning doctorates. His students have won over 35 regional and national engineering competitions, and every summer, he leads an engineering program for high school students. He has authored nearly 150 publications, about half co-authored by his students.
He also is no stranger to winning accolades from industry and University peers, and was last year's recipient of CSUF's Carol Barnes Excellence in Teaching Award. He earned his doctorate and master's degree, specializing in geotechnical engineering, from Niigata University in Japan, and his bachelor's degree in civil engineering from Tribhuvan University in Nepal.
Tiwari will lead the academic procession at this year's May 20-21 commencement ceremonies and deliver an Outstanding Professor Lecture during the next academic year.