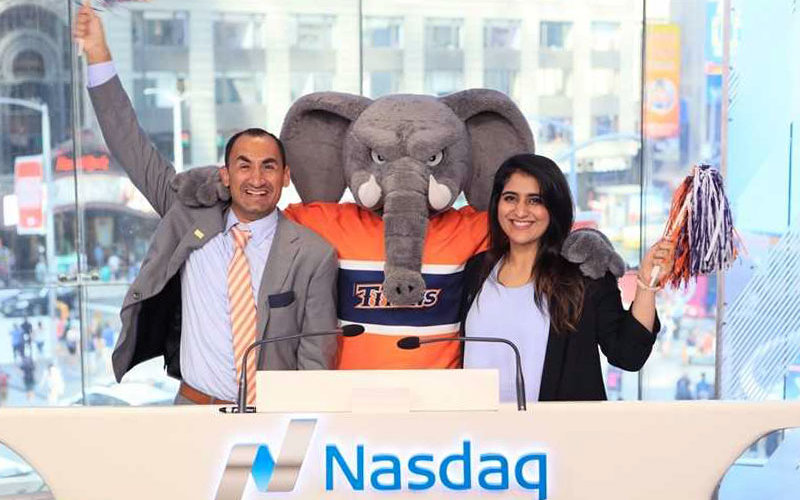 Cal State Fullerton's 60 years of building a reputation as innovative leaders in education, and producing trusted research sparked many events in 2017, drawing attention to our in-demand campus. Notable 2017 events included an educators conference, a economic forecast for Southern California, and several talks by political powerhouses. Proud founders and accomplished alumni also returned to CSUF to mentor students, share career advice, and celebrate CSUF's 60th anniversary.
The events continued to shine light on CSUF's focus on what it does best, helping students succeed and find their passion.
Several notable alumni returned to campus, including screenwriter Linda Woolverton and CEO of GE Digital Bill Ruh — who spoke at Commencement in May, before the University's largest graduating class.
CSUF was host to two major conferences this year. In May, the North American Sport History Conference featured 46 panel presentations on such topics as doping, politics and sports medicine, including several from CSUF faculty. The Hermanos Unidos National Leadership Conference in February, welcomed more than 500 students from 15 schools across the state.
The Financial Planning Program received a boost from the TD Ameritrade with a $50,000 NextGen Established Program grant. The event was celebrated at the Nasdaq closing bell in July.
Nearly 1,000 educators attended TED-style EDTalks and workshops at CSUF and to watch a live-streamed talk by keynote speaker Jill Biden, a 30-year educator and former second lady of the United States, as part of the 2017 Teachers Summit.
CSUF astronomers and physicists joined students and faculty with telescopes and protective glasses and their eyes on the sky to view the Aug. 21 partial eclipse during the "Great American Eclipse" — when millions across the United States witnessed the celestial shadow.
The University kicked off the fall semester and its yearlong, 60th anniversary celebration with Convocation. CSUF welcomed Titan Founders – early educators and alumni — back to campus and celebrated with Concert Under the Stars. The celebration continued in December with a winter wonderland Homecoming featuring ice skating and snow. A reunion of Vision and Visionaries honorees kept the focus on those who supported the University through the years and paid tribute to President Mildred García.
Nearly 700 business leaders leaned in as CSUF economists Anil Puri and Mira Farka shared their Oct. 25 Economic Outlook and Forecast presentation highlighting the nation's continued economic recovery that's likely to slow in Orange County.
CSUF student teams in the 10th annual Pumpkin Launch squashed competitors, and finished in second and third slots out of 16 college and community teams.
Notable Visitors