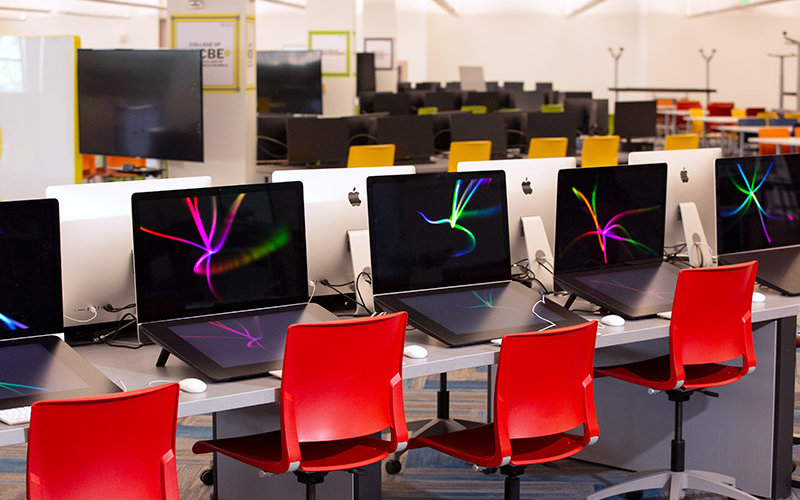 This fall, Pollak Library and the Division of Information Technology are offering new technology services and resources on the second floor of the library's north tower to support students and faculty members.
The library's LOFT, or Library of the Future, planning process envisioned a technology center — and that vision is now becoming a reality.
"We have moved significantly closer to that goal and expect to continue rapid progress over the course of the fall semester," said Emily Miller Bonney, dean of Pollak Library.
New high-tech offerings are:
● Data Visualization Center, located adjacent to the existing Innovation/Makerspace Center, is an immersive space to analyze and display data.
● Ideation Center, provides an area with eight tables — one for each college — and computers for student collaboration and idea-formation and development.
● Makerspace 2.0, additional Makerspaces — dedicated to creativity and innovation through advanced technology — will open soon in Rooms 210, 211 and 212, with equipment to work with fabrics. These spaces will provide resources for an array of educational purposes, including semester-end projects.
● Esports, situated in in Rooms 213 and 214, is coming soon and will be equipped with special computers for esports. Computers can be reserved for gaming, as well as used for educational purposes.
The library will reach out to the college faculty members this semester to gather ideas about using these technology opportunities and how to best incorporate these resources in existing curricula and programs, as well as in the development of new courses, Bonney said.
Library Collection Update
Due to continuing construction on Pollak Library's fourth and fifth floors, the library collection will remain off-site through the fall semester. Library patrons will have to continue to rely on CSU+ (a free interlibrary loan service for students, and faculty and staff members) to obtain copies of the books currently in storage. Some materials in the northernmost part of the basement are expected to be available soon.
For more information, visit the Pollak Library website.