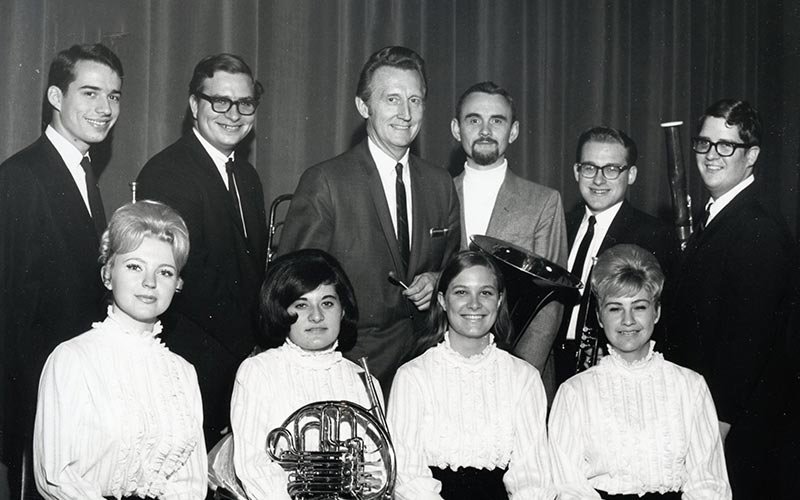 On Oct. 18, 1959, educator Joseph Landon submitted a proposed music curriculum for Orange County State College, now Cal State Fullerton.
William B. Langsdorf, the university's founding president, was so impressed by Landon's plan that he hired him as one of the first professors and chair of the soon-to-be created Department of Music, now School of Music.
An exhibit highlighting the music program's 60th anniversary — "CSUF School of Music: A Retrospective, 1960-2020" — is now on display in the Pollak Library's Salz-Pollak Atrium Gallery through March 24. An opening reception will be held Tuesday, Feb. 4, at 6 p.m. in Pollak Library, Room 130 as well as in the Atrium Gallery.
Curated by Professor of Music John Koegel and designed by alumna Laura Black '15, '19 (B.A. art-studio art, M.F.A. art-exhibition design), the exhibit reflects the music program's 60-year history through photographs, posters, programs, recordings, filmed performances, oral histories, musical scores, faculty publications and compositions, and other materials.
"This exhibit highlights the distinguished history of the CSUF School of Music, emphasizing first and foremost the students, present and past, as well as the excellent faculty and staff," explained Koegel.
Building a Solid Foundation
The Department of Music offered its first classes in September 1960, led by Landon (music education), David Thorsen (choral music), Donal Michalsky (theory and composition) and three part-time instructors.
Less than three months later, the department presented its first concert on Dec. 4, 1960, featuring Mozart's "Requiem" for vocal soloists, chorus and orchestra.
"This was a most impressive accomplishment for a brand-new university and department, and it set the stage for many future successes," said Koegel.
Landon and other music faculty and staff shepherded the music program through a huge growth period — including the opening of the Music-Speech-Drama Building in 1965, now the Clayes Performing Arts Center — and established a history of excellence in music education that continues to this day.
A World-Class Music Education
Today, more than 400 undergraduate and graduate music students enroll annually in the School of Music's performance, music education, theory-composition, and music history and literature programs.
Students and faculty benefit from collaborative partnerships with many of Southern California's leading music organizations, such as the Pacific Symphony, Pacific Chorale, Hollywood Bowl Orchestra and Los Angeles Philharmonic.
The university completed a 109,000-square-foot addition to the Music-Speech-Drama Building in 2006, and the entire complex was renamed the Joseph A.W. Clayes III Performing Arts Center to honor one of CSUF's first graduates whose estate made a $5 million donation to the university.
"CSUF's School of Music is one of the preeminent music units in the western United States, and attracts outstanding students from around the globe," said Koegel. "Our students receive exceptional training as performers and scholars."