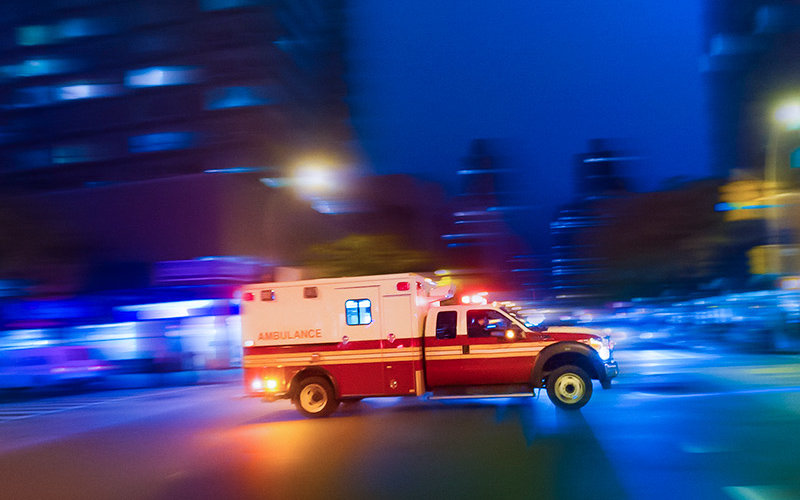 Orange County emergency personnel arrive at the scene — ready to rush in and start medical treatment. But first, they need to suit up with personal protective equipment. Anxiety is palpable — hanging in the air on every call. No one says it, but everyone is thinking, "what if this is a COVID-19-positive patient?" 
"First responders are definitely at risk in this pandemic," says Bryan Ruef, a Cal State Fullerton student entrepreneur and part-time emergency medical technician. "We walk into patients' homes, and we're in the back of a small ambulance with little space between us and those who are ill." 
He describes emergency rooms with patients desperately trying to breathe and nurses and doctors anxiously donning "what look like astronaut suits" before visiting patients. Adding even more apprehension to the mix is the limited supply of masks and other personal protective equipment. 
"We're all trying our best to conserve PPE where we can," Ruef shares. "Masks that would normally be one-time use are now being worn for multiple shifts. Protective gowns were replaced by our jackets at one point."
Software to Help in the Pandemic
The COVID-19 pandemic is not Ruef's first experience with an international disaster. He previously helped from behind a computer screen, supporting other first responders with 10-8 Systems, the cloud-based dispatch system he built for managing emergencies.  
When Hurricane Dorian devastated the Bahamas last fall, the senior computer science major watched teams from Florida Search and Rescue save more than 650 lives using his software creation.
Now COVID-19 has created a massive spike in demand for 10-8 Systems, as cities look to invest in public safety. 
The federal stimulus package, which includes billions of dollars for improved security, has further spurred such efforts. 
"Some federal agencies are using this opportunity to move to modern systems, and they want to do it quickly," says Ruef. "We just signed a five-year agreement with a city in Maryland, and we've been given the green light by a federal police agency to deploy to their locations across the United States."  
Private security services is another area that has surged during the pandemic. With businesses closed, there is an increased risk of break-ins and property crime.
"With the COVID-19 situation continually evolving, organizations are looking for systems that can deploy quickly and operate in any condition, and our software provides that," says Ruef.
Between running his business and running patients to the hospital, he is grateful that classes are now online. "I have no clue how I could have been able to finish the semester if I had to attend in-person classes on top of all this," he says.
"In these scary times, I try to help where I can. I feel so fortunate to be able to offer fellow first responders tools they need to do their jobs."
Contact: Karen Lindell, klindell@fullerton.edu