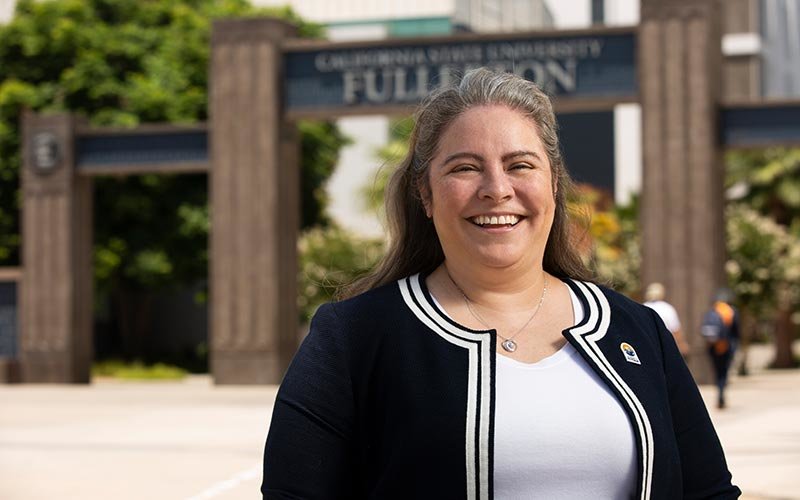 Higher education leader Tonantzin Oseguera has been appointed to serve as Cal State Fullerton's next vice president for student affairs, effective July 1.
Oseguera, who has worked in academia for 20 years, was selected for the top post following a national search. She joined the university in 2013 and has helped pave the road to academic success for countless Titans.
"Tonantzin's expertise in, and passion for, the retention and care for all our students — and with great focus on underserved populations — has directly led to the dramatic narrowing of our opportunity gap and the inspiring rise of our graduation rates," said CSUF President Fram Virjee in announcing her appointment.
Oseguera has held several positions in the Division of Student Affairs and became an associate vice president in 2016, where she first led student engagement. She oversaw such areas as the Diversity Initiatives and Resource Centers, Student Life and Leadership, the WoMen's and Adult Reentry Center and the Dean of Students Office. Her current responsibilities include admissions, outreach and recruitment, educational partnerships and financial aid, among others.
"As I step into the role of vice president for student affairs, I pause in appreciation of having wonderful colleagues and student relationships built over the last seven years," Oseguera said. "I am invigorated by the work ahead, and gladly offer my service to the president, to students, faculty and staff of this great university."
Oseguera served as dean of students from 2013 to 2016. She had oversight in the areas of student conduct and led a myriad of endeavors to provide an inclusive and transformational environment for students — from the creation of a one-stop-shop for all student concerns to better facilitating student care and case management.
As an associate vice president, she has spearheaded or directly contributed to a number of "firsts," including the creation of a behavior intervention team and resource centers that assist undocumented students, as well as those in need of basic necessities.
She has served the university in various roles, including on the President's Commission for Equity and Inclusion, the Undocumented and Formerly Undocumented Faculty and Staff Association, and as co-chair of the Black Excellence Care Group.
A first-generation college graduate, Oseguera was born and raised in Mexico City. She earned a bachelor's degree in human development and family studies from Colorado State University, a master's degree in education from the University of Vermont and a doctorate in education from the University of Southern California.
Oseguera will succeed Harry Le Grande, who was appointed last August to serve until June 30. He served at UC Berkeley for nearly 35 years and retired as vice chancellor for student affairs.
Contact: Debra Cano Ramos, dcanoramos@fullerton.edu