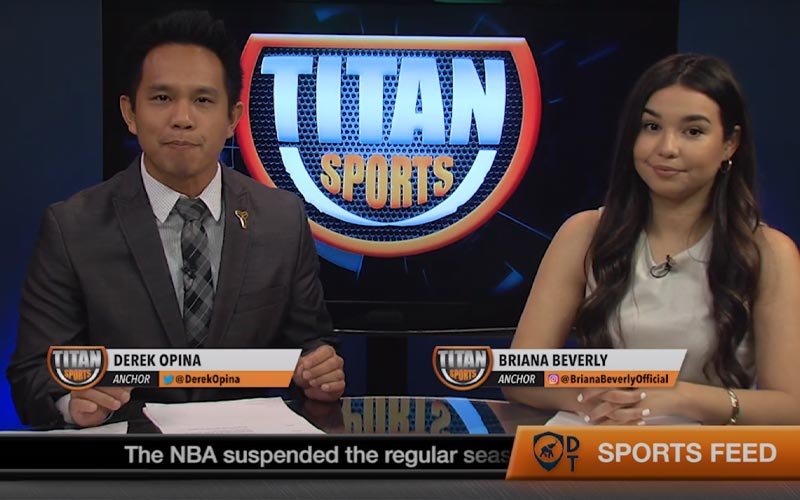 Looking for some quality viewing during lockdown? Skip the Netflix documentaries and tune into the four standout productions from Cal State Fullerton students in the College of Communications that earned top national honors in media competitions this semester.
"Al Día, A Border Emergency," took first place in the Best TV Newscast category of the Apple Awards from the College Media Association, adding to its impressive collection of student media honors. 
"Al Día" is CSUF's student-produced Spanish-language newscast, and the winning team included (now) alumni Viviana Borroel, Jessica Cardenas, Rita La Vau, Xochilt Lagunas, Maricela Perez, Tania Thorne, Dominic Torres and Regina Yurrita.
"Lo Que Está Trending," a collaboration between Al Día and Titan TV, won the Broadcast Education Association's 2020 "Disrupt the News" challenge, which aims to reinvent local broadcast news to attract younger viewers. 
Cinema and television arts students Cassie Chang and Jonathan Phan, along with Nathan Jeffers '19 (M.A. communications) and Regina Yurrita and Sharon Cardona, both '19 (B.A. communications-journalism), created the award-winning piece.
"Agree and Disagree" and "Titans v. Coronavirus," two "Titan Sports" episodes, both received Communicator Awards of Excellence from the Academy of Interactive and Visual Arts. "Titan Sports," housed under Titan TV, is similar to ESPN's "SportsCenter" and provides Titans with the opportunity to gain sports broadcasting experience. The broadcasts were produced by communications students Kyle Fulbright and Cory Johnson.
Contact: Karen Lindell, klindell@fullerton.edu