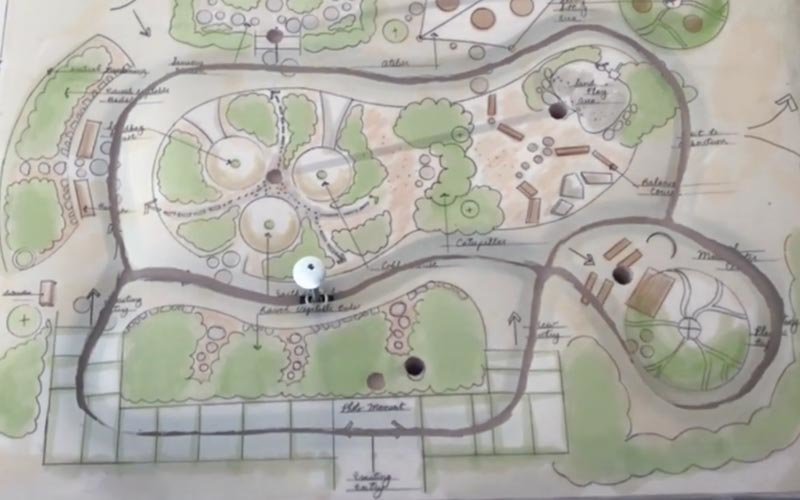 Visitors at the Fullerton Arboretum are instantly transported from hectic Orange County to a beautiful, serene space with soothing landscapes, fresh produce and fun nature-based activities. What they may not realize, though, is that often a Cal State Fullerton student has played a role in their restorative experience at the 26-acre botanical garden. 
"Part of the arboretum's mission includes serving faculty and students through education and scholarly activities," explained Greg Dyment, director of Fullerton Arboretum. "We regularly reach out to campus programs like the Urban Agriculture Community-based Research Experience (U-ACRE), the colleges and other campus entities to find ways to engage students. And we love it when people bring us new ideas for collaboration as well."
New Fun in the Children's Garden
When mechanical engineering students Jizzelle Cardenas, Michael Espinoza, Trevor Salerno and Xena Yap heard that the arboretum wanted a new hands-on, educational activity for the Children's Garden area, they were eager to help. They decided to create an interactive map with an embedded track system, sounds, lights and pop-up toys for their senior design project, under the direction of Jin Woo Lee, assistant professor of mechanical engineering. 
"We thought that working with the arboretum would be a great opportunity to apply our skills and give back to the Titan community," said Salerno. "The arboretum's emphasis on stewardship and education has been a source of inspiration throughout my time at CSUF."
The team faced difficulties while working on the project, including multiple design changes and social distancing requirements during the unexpected COVID-19 outbreak. Salerno is proud that the team was able to overcome such challenges with a product that will contribute to community enjoyment of the arboretum.
"It's a great example of finding a solution by thinking outside of the box," said Dyment. "I think it will be a big hit when the grounds reopen."
Innovations in Farming Methods
Students Amy Heil and Mitsue Escobar working at the Fullerton Arboretum Learning Farm
Research is another area where students engage with the arboretum. U-ACRE, founded by Professor of Anthropology Sara Johnson, provides hands-on research and education opportunities for CSUF students that help the local community. U-ACRE members, along with hundreds of service-learning students, work together to plant, cultivate, harvest, measure and record data on crops at the Fullerton Arboretum Learning Farm. Their experiments with sweet potato crops are helping to keep the invasive weed purple nutsedge at bay so that crop yields are higher.
Creative Promotions and Events
The arboretum can work on upgrades and new offerings, but an equally critical part of success is letting the public know about such activities. Building awareness is particularly important now that the city of Fullerton's support for the arboretum will cease at the end of 2020.
A new collaboration with students in the capstone course for entertainment and tourism communications taught by Emily Barnes, lecturer in communications, is breathing new life into the botanical garden's public relations, events, promotional materials and social media presence.
Lecturer Emily Barnes with students in the entertainment and tourism communications course
Working with Harriet Bouldin, development, membership and volunteer manager for the Fullerton Arboretum, students created a strategic communications plan, including a reimagining of the annual Green Scene event, ideas for a 40th anniversary celebration and the 50th anniversary of Earth Day, and a social media calendar. 
"It felt like a professional mentorship," said senior Lizzy Brent. "I wasn't expecting that our work would be considered by people of influence. All the work had meaning, and I became really invested in it."
Bouldin was impressed with the students and the skills they brought to the table. "They think outside the box and are very inspirational on how our events can potentially reach a larger audience and evolve in their relevance," she said. "I think this class can really benefit the arboretum by continuing to look at unique ways to raise support through pop-up events, social media campaigns and potentially new major events."
Bouldin hopes the increased awareness of the Fullerton Arboretum and its treasures will, in turn, inspire increased support, allowing the garden to continue to grow and blossom in full.
Contact: Karen Lindell, klindell@fullerton.edu