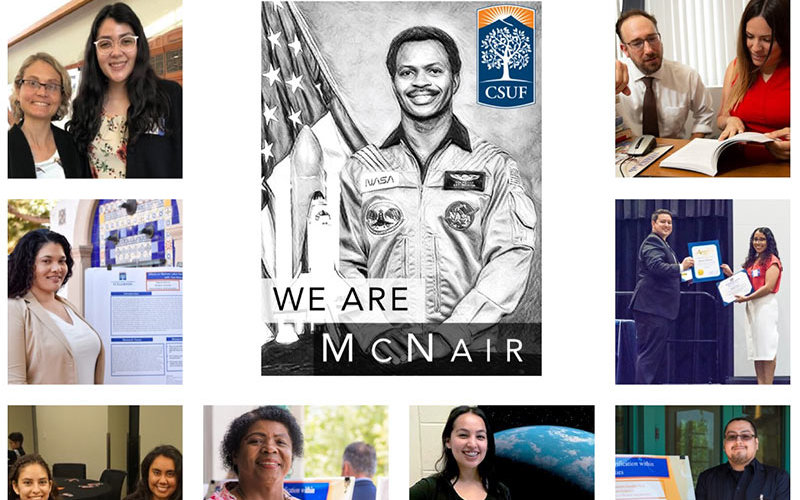 Graduate Victor Espinoza Castro worked his way through college and overcame obstacles to get to where he is today. He is the first in his family to graduate from high school, community college and now Cal State Fullerton, where he earned a bachelor's degree in chemistry.
His pursuit of higher education to become a scientist isn't finished. He was accepted into three doctoral programs. In the fall, Espinoza Castro will attend the University of Pittsburgh to pursue a doctorate in chemistry. His end goal is to become a research professor at a four-year university.
Jasmine Martinez also graduated and earned a bachelor's degree in biological science with a concentration in cell and developmental biology. In the fall, she will attend USC's doctoral program in biomedical and biological sciences.
Both are among the Class of 2020 McNair Scholars who are heading to graduate school to fulfill their advanced educational goals. The U.S. Department of Education-funded program, created to honor Ronald E. McNair, a Challenger astronaut and physicist, and established at CSUF in 1999, assists underrepresented, first-generation and low-income students in preparing for graduate studies.
As part of the Ronald E. McNair Scholars Program, students attend conferences, make research presentations, participate in graduate school tours, receive academic advice and professional development, and engage in undergraduate research experiences.
Espinoza Castro transferred to CSUF from Citrus College, where he earned an associate degree in mathematics and physical sciences. His participation in a CSUF summer program for underrepresented community college students (Strengthening Transfer Education & Matriculation in STEM) helped him realize his interest in research as a career.
At CSUF, he worked as a peer adviser and guided incoming science students on the transition to university life as part of Project RAISE, a U.S. Department of Education-funded program to increase the number of Hispanic and low-income students in STEM (science, technology, engineering and mathematics) fields.
Understanding Chemistry Reactions and Superbugs
As a McNair Scholar, Espinoza Castro worked under the mentorship of Peter de Lijser, chair and professor of chemistry and biochemistry. His research with de Lijser and collaborator Andrew Petit, assistant professor of chemistry and biochemistry, focused on better understanding chemical reactions and reactive intermediates (called radicals) that form from the oxidation of certain pesticides and drugs, and that can cause DNA damage.
Martinez, whose research interests include oncology, immunology, antibiotic resistance of bacteria and toxicology, worked in the lab of María Soledad Ramírez, associate professor of biological science. Her career goal is to become a researcher in a clinical facility, focusing on antibiotic-resistant bacteria.
"Antibiotic-resistant bacteria is a major concern to public health. I want to help identify different mechanisms of antibiotic resistance to advance in the creation of different inhibitors or antibiotics to treat these superbugs," she said.
Under the mentorship of Ramírez, she studied the antibiotic-resistant bacteria, Acinetobacter baumannii.
"This project focused on observing how this nasty bug can persist in stressful environments, such as pleural fluid," Martinez said. "This fluid is what lubricates a human's pleura, which is a membrane that envelops the lungs. It is known to have limited nutrients and materials that help bacteria survive."
As a student researcher, Martinez added that she learned about what it takes to lead a project, work as a team with other students, how to analyze and compile data, as well as the process of writing a research paper for journal publication.
"One of the key benefits of the McNair Scholars program is the research you are able to conduct under a mentor and the skills you gain during this process. Without this program, I would not have been able to connect with faculty I want to work with in graduate school."
Contact: Debra Cano Ramos, dcanoramos@fullerton.edu