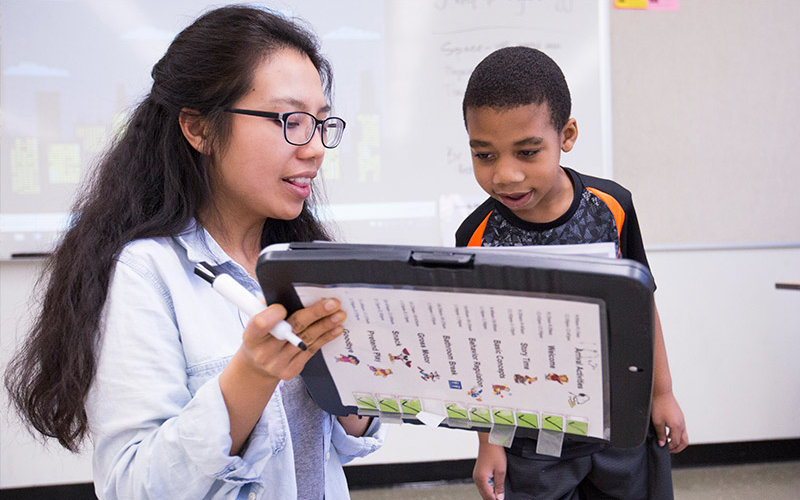 More than one in five U.S. residents speak a language other than English, and in Los Angeles, it's almost 60%, according to 2017 Census Bureau data. What happens when one of these individuals has a speech and/or language problem?
"First of all," said Terry Saenz, professor of communication sciences and disorders at Cal State Fullerton, "having an accent or difficulty producing a sound that is not part of one's native language is a difference — not a disorder. To determine if an individual has a language disorder, you need to do an assessment in English and the individual's native language to see if the communication difficulty appears in both languages." 
Growing Need for Cultural Competence
Having enough speech-language pathologists who can do this is becoming increasingly critical as America grows more diverse. Nationally, 92% of SLPs are white, and the vast majority work with translators and interpreters to get the job done.
Saenz's research on SLPs' experiences with translators and interpreters found that while most are satisfied with the collaboration, it's ideal when the translators and interpreters have some training in speech-language therapy. 
And the reverse is true as well. SLPs with high levels of cultural and bilingual competence — the ability to understand, communicate with and effectively interact with diverse populations — can provide better patient care. 
CSUF Leads in Multicultural Training
Fortunately, Cal State Fullerton has been leading the way in speech-language pathology training with a bilingual/multicultural emphasis in the curriculum for 30 years — including courses, a clinical practicum and a certificate completely dedicated to the subject. Toya Wyatt, professor of communication sciences and disorders, spearheaded these efforts, with Saenz and the strong support of Department Chair HyeKyeung Seung.
CSUF is No. 1 in the nation for awarding bachelor's degrees to underrepresented students in communication sciences and disorders.
"CSUF has been successful in recruiting and retaining students of color in this program," said Saenz. "We have a more diverse faculty (half are bilingual/bicultural) than most other communication sciences and disorders programs and regularly conduct bilingual/bicultural research."
In fact, the university ranks first in the nation for awarding bachelor's degrees to underrepresented students in the communication sciences and disorders discipline, according to Diverse: Issues in Higher Education.
"For a long time, there's not been a full appreciation of what diversity brings to the field," Saenz continued. "SLPs can get better access to a client and do a better assessment when they speak the client's language. It allows them to conduct therapy in the native language. Having knowledge of the culture helps the SLP to understand the reactions and values of the client and his or her family."
Essay Win Brings National Prominence
Graduate student Rachel Nelson brought the benefits of cultural competence to life in her essay that took first place in the national 2020 Student Ethics Essay Award contest from the American Speech-Language-Hearing Association.
She described a hypothetical school-aged boy who recently arrived from a different country. His teacher found his speech unintelligible, so she referred him to the school's SLP. However, his parents refused treatment because disabilities were viewed negatively and were shamed in their culture. When the SLP asked a school aide — untrained in speech therapy — to translate at a meeting with the family, the aide translated a slightly different message that she thought would sound better to the child's mother. All this led to the mother feeling embarrassed, fearful and upset about intervention.
Nelson noted, "This scenario could have been handled much better if the SLP had knowledge and training to work with diverse populations.
"Training to better serve such populations is interwoven in all our seminars and clinics at CSUF. It's what I believe sets us apart from other programs. Students here get a solid foundation of learning to implement evidence-based practice with diverse populations, equipping us to become more culturally competent future professionals.
As SLPs, it is not only our job to help others communicate, but for us to communicate well to provide the best possible care for all clients."
Learn more about CSUF's communication sciences and disorders program on their website.
Contact: Karen Lindell, klindell@fullerton.edu