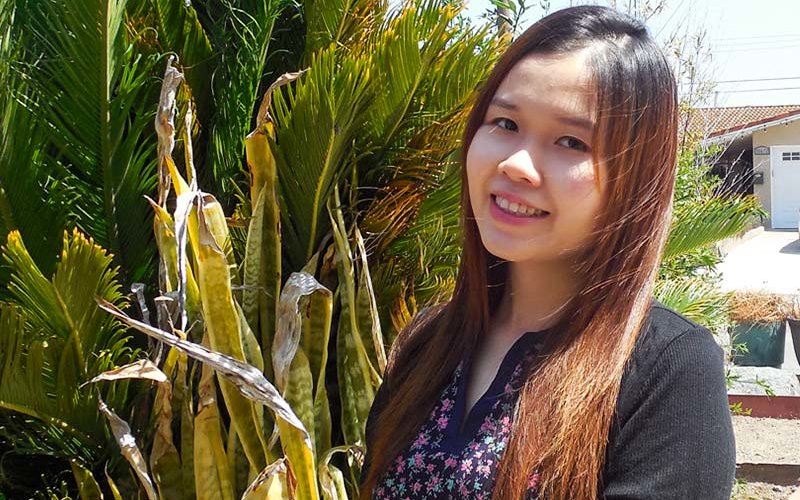 Cal State Fullerton senior accounting student An Thien Le is the recipient of the 2020 CSU Trustee Award for Outstanding Achievement, recognizing her superior academic performance, accomplishments and community service. 
She is one of only 23 students across the entire California State University system — and the third consecutive accounting student from CSUF — to achieve the honor. 
Le immigrated to the United States from Vietnam four years ago. While her parents instilled in her that working hard at a job was the key to success, she longed to pursue higher education. As a first-generation student, Le had to learn a new language, take weekend jobs to support herself and demonstrate the benefits of receiving a college degree to her parents. 
Le chose accounting because, as she explains it, "Accounting provides fun puzzles that urge me to find correct answers through patterns, formulas and connections. Figures in accounting are not only raw data, but they also tell a meaningful story of a company's health based on accurate analyses of financial statements."
Outside of classwork, Le is the events committee chair for Beta Alpha Psi, the honor organization for financial information students and professionals; senior supplemental instruction leader for the Department of Information Systems and Decision Sciences; and a certified tax volunteer for the Volunteer Income Tax Assistance (VITA) program, which offers free tax preparation to qualifying low-income families and individuals. 
"My education at CSUF has given me dozens of opportunities to connect and work with friends and colleagues who have helped me progress personally and professionally," said Le. "I believe that this award is such a beautiful message to motivate me to work harder in achieving my career goals." 
She is well on her way to accomplishing those goals — to become a certified public accountant in a Big Four accounting firm — as she just received an offer for a full-time position with Grant Thornton for fall 2021.
The university's Department of Accounting, one of the largest undergraduate accounting programs in the nation, is thrilled with Le's success. Vivek Mande, chair and professor of accounting, noted, "An Le exemplifies the high caliber of student that our program — which is known for its strong integration of technology, analytics and real world practices — attracts. We are really proud that for three years in a row now, an accounting student has been selected as a winner of the Trustee Award."
To learn more about or support the accounting program at CSUF, visit the Innovate Accountancy Education page of the "It Takes a Titan" campaign website. 
Contact: Karen Lindell, klindell@fullerton.edu