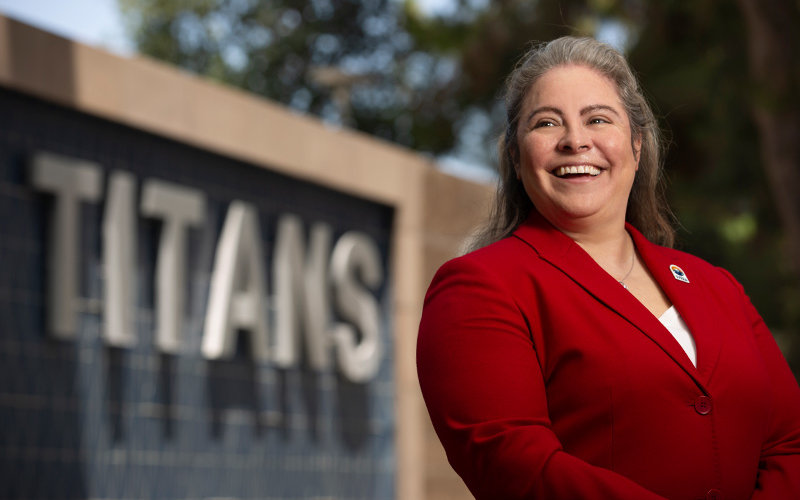 When Tonantzin Oseguera was 13 years old, she left Mexico City where she lived with her father and came to the United States to be with her mother. Her father wanted her to be safe and have a better life. She hadn't seen her mother since she was 6, didn't speak English and was thrust into a culture very different from the life she knew in Mexico's capital.
While her parents met in Mexico, her mother immigrated to the U.S. to be with her family, who have lived in the Los Angeles area since the 1940s. With a hand-me-down transistor radio from the '60s, she learned English by listening to LA music stations. She excelled in academics and took honors and advanced placement classes at La Mirada High School.
A high school guidance counselor encouraged her to go to college, but the track and field athlete didn't think higher education was possible as an undocumented student and no means to pay for college. Landing an undergraduate scholarship to attend Colorado State University changed the trajectory of her life.
Today, more than 30 years since graduating from high school and after earning three college degrees, including a doctorate, Oseguera was selected to serve as Cal State Fullerton's vice president for student affairs.
Oseguera led student-centered programs at the university for seven years before stepping into her new role July 1, where she oversees more than 400 employees who serve about 41,000 students. The Division of Student Affairs provides a wide range of programs and services to support students' academic and personal development — from multicultural experiences, career and academic advising, leadership training, and health and psychological services.
A first-generation college graduate, Oseguera became a U.S. citizen in 2005 and has worked in academia for over 20 years. She came to CSUF in 2013 to serve as dean of students. Three years later, she became an associate vice president for student affairs, directing student engagement programs, and later overseeing such areas as admissions, outreach and recruitment, and financial aid.
After earning a bachelor's degree in human development and family studies, Oseguera's passion was to serve students, especially underrepresented and underserved students in higher education. She received a fellowship to attend the University of Vermont and earned a master's degree in education-higher education and student affairs administration. In 2013, she graduated from USC with a doctorate in education-higher education administration.
As a Latinx college student, Oseguera faced the anxieties around identity and social adequacy.
"I experienced both sides of what I refer to as the 'life-curve' — events that enhance and elevate you, or that distract and deplete you," she said. "Year after year, I hear stories from students that sound similar to my own."
Some of these life-altering experiences included learning about slavery and racism, the genocide of native and first peoples, and the history of immigration in the U. S., all of which, as a person of color, opened her eyes and gave her a deeper understanding about her own identity. She faced racism from professors who anglicized her first name, questioned if she was in the "right class" when taking a physics class, and commented on her choice of clothing, telling her, "Your people like bright colors."
"Their words stung in the moment and elicited a reluctance to engage with faculty and made me question my academic fitness to attend the university — to belong," she shared.
These microaggressions fueled her desire to become college educated — not only to uplift her life and social standing, but so she could serve college students, especially underrepresented students like herself. She has become a champion of college access and equity and strives to ensure that students feel a sense of belonging and receive the resources and support they need throughout their CSUF journey.
In her new post, Oseguera's top priorities for the division include improving the racial climate on campus, removing systemic barriers of racism, and raising the consciousness of students to overcome obstacles and challenges. (See related story)
"My interactions and support for students will never change. We have such great students at Cal State Fullerton and I get inspired by them," Oseguera said. "Every single decision that I make is student-centered, and I will continue to strive to support present and future generations of Titans to make sure they graduate."
Contact: Debra Cano Ramos, dcanoramos@fullerton.edu