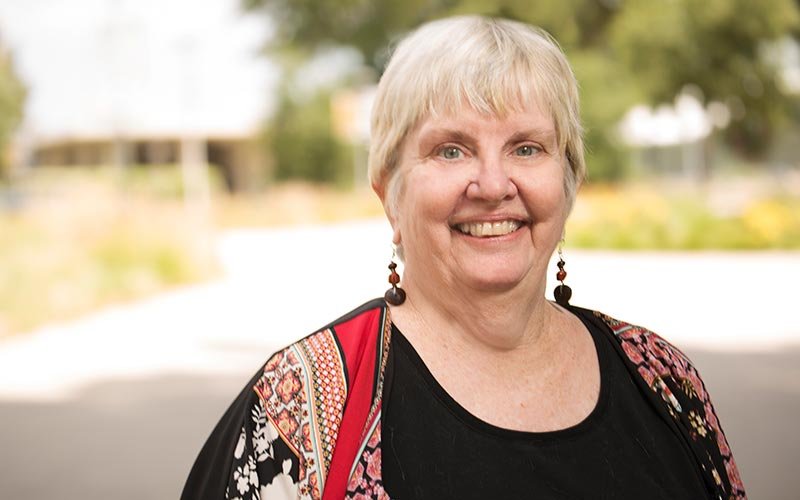 A virtual celebration of life for Nancy Fitch, professor emeritus of history, will be held Saturday, Dec. 19, from 10:30 a.m. to 12:30 p.m.
Fitch, who served the university for 32 years, died Nov. 15.
She is remembered for her exceptional support of students, commitment to collegiality, and tireless advocacy on behalf of women and gender studies and ethnic studies.
For such efforts and more, Fitch was honored with the university's 2017-18 Faculty Leadership in Collegial Governance Award. Colleagues praised her leadership in the Academic Senate, Department of History and other campus committees. They also recognized the key role she played in globalizing the history curriculum at Cal State Fullerton and developing courses on gender, class, ethnicity, history and memory.
"Nancy was a devoted teacher whose service to the university and to her profession were rooted in her deep passion for learning and the study of history," shared Gayle Brunelle, professor of history. "The astonishing breadth of her knowledge and her commitment to diversity and social justice were reflected in her courses and her publications."
To further benefit students, she created the Nancy Fitch Women's History Award Endowment to support future generations of Titans.
"Nancy was a force of nature, and while she will forever be known for transforming countless lives through teaching history, it is important to note that at Cal State Fullerton, she also made history," said President Fram Virjee.
"There are infinite ways to underscore this truth, including the externally funded scholarship in her name, her five terms of leadership on the Academic Senate Executive Committee, and the fact that she created half of the 20 history courses she taught, ever-infusing our curriculum and campus with more inclusive, global, and multicultural teaching and research. I cannot think of a Titan legacy that is more powerful or eternal than Nancy's, and we at Cal State Fullerton are honored to uphold it in her memory."
Fitch received a doctorate in history from UCLA, and bachelor's and master's degrees in history from San Diego State University.
An accomplished scholar, Fitch garnered the 2017 Nancy Lyman Roelker Award from the Sixteenth Century Society and Conference for her article "Entrepreneurial Nobles or Aristocratic Serfs?: A Reconsideration of Seigneurialism in Old Regime Central France," published in French Historical Studies.
"Nancy's pathbreaking scholarship — especially on the French Revolution, the history of anti-Semitism and the legacies of the First World War — won her international recognition," said Leila Zenderland, professor of American studies. "She was also a gifted photographer, an avid world traveler, and a committed mentor whose remarkable kindness touched all those who knew her."